Reefer containers feature greatly in the global supply chain more than we give it credit for. It is not too distant a past where we couldn't savor fresh tomatoes from Country A, halfway around the world. It is made possible by the invention of multimodal reefer containers. So, what is a reefer container? To put it simply, a reefer container is designed to be compatible with current multimodal transportation vessels, while allowing the cargo owners the ability to transport temperature-sensitive cargoes.
In other words, a reefer container is akin to a movable fridge, that enables us to transport perishable cargoes across any country around the world. Intuitively, this idea is seemingly simple, but it is anything but. The simplest ideas require great effort to execute, and amalgamating reefer containers to current local or public supply chain facilities requires a huge effort. Hence, this simple yet remarkable invention, and the adoption of the reefer container warrants further understanding.  In this short article, we pay tribute to reefer containers, by sharing with you some information on how reefer containers work in general.
What is a Reefer Container?
So, what is a reefer container? As you have scoured around Google or Wikipedia for the definition of a reefer container, we are sure that you have a general idea that a reefer container, is a multimodal container, that comes in several dimensions (20', 40', or 45') that is installed with a power generated refrigeration unit to control the internal container's temperature, within a certain range of temperature degree. 
A reefer container marries: –
The multimodality of a shipping container
The need for refrigerated containment unit to transport temperature sensitive cargo.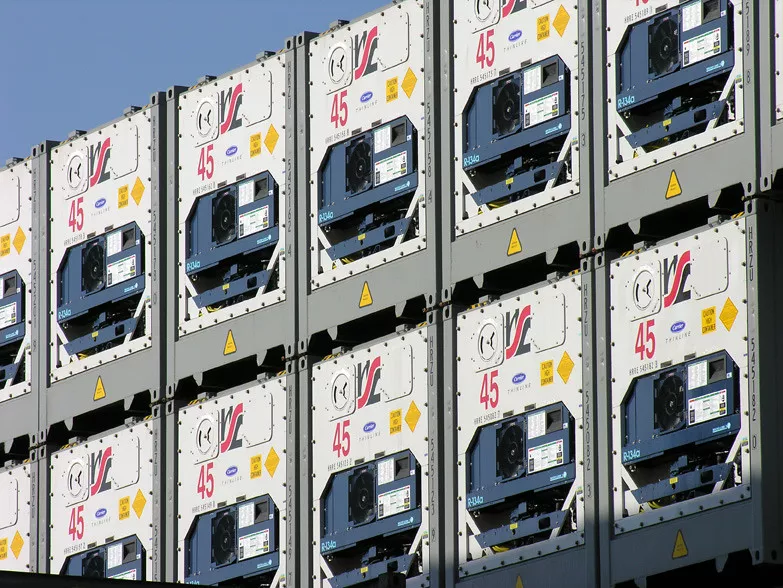 In short, a reefer container is a shipping container with a built-in fridge.
How are Reefer Containers Powered?
Reefer containers are powered by electricity. As simple as that sounds, it is the source of electricity that powers the reefer container that comes in different varieties.
Generator Sets
Clip-On Generator Set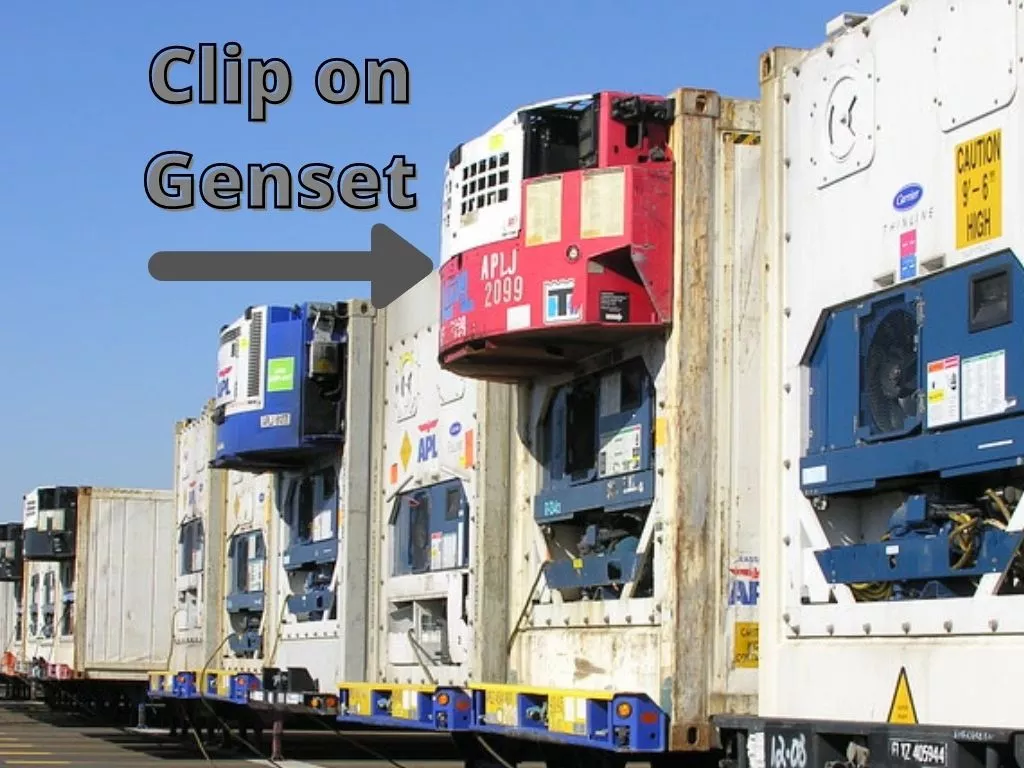 A reefer container's best qualities are that it enables transporter to perform last-mile, door-to-door delivery. But for a period of time during transit, the reefer containers are uncoupled from any power source to power the reefer unit.
Clip-on generator sets are designed to be mounted on the upper front structure of the reefer container.
These are special built generators that are capable of emitting a continuous, single voltage power.
A clip-on generator set, or Genset in short, is built with mobility in mind. So, its cooling unit, generator engine, battery, and operating control are housed in a small frame.
The clip-on generators are installed easily by mounting the container clip on onto the container's housing.
A standard clip-on generator set can power a reefer container for up to 12 hours. It can continuously power the reefer container as long as the generator set is refueled during transit.
The benefit of using a clip-on generator set is that it is not a built-in unit. Therefore, you can use it interchangeably between reefer containers.
The disadvantage of using a clip-on generator, however, is that the generator is heavy. And it requires a forklift to hoist the generator set to the top mount of the container.
Undermount Generator Set
An undermount generator set can also be used to power a reefer container. The difference is that an undermount generator set is installed under the chassis of the truck.
You basically can conclude what are the benefits of using an undermount Genset as compared to a clip-on generator set to power the reefer container.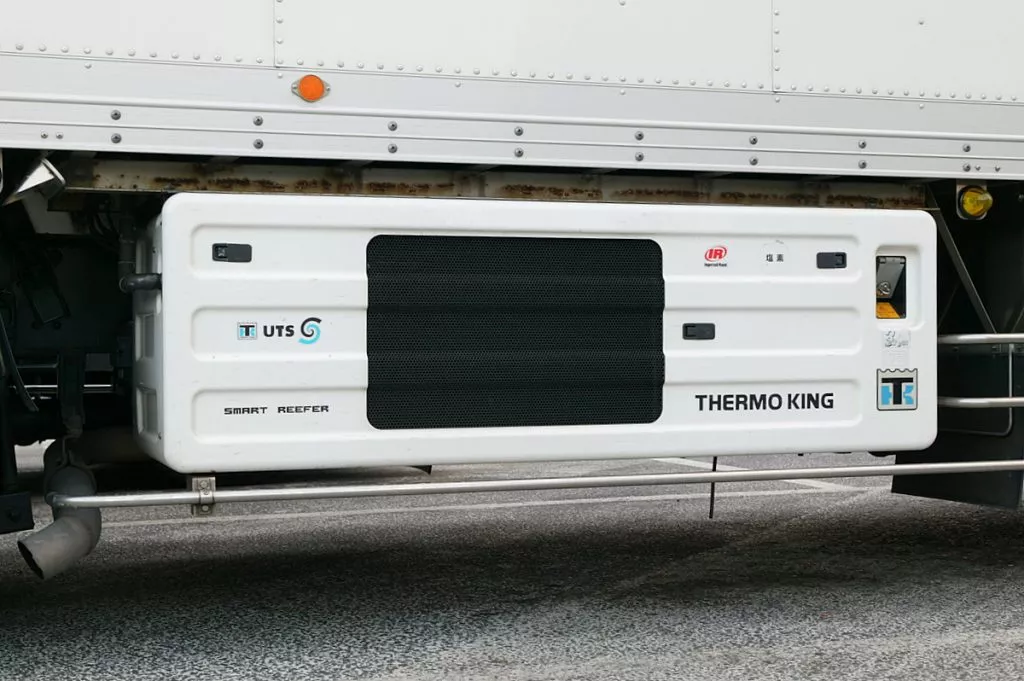 The primary benefit is that since the undermount generator set is installed onto the truck, it makes it easier for truck operators to transport multiple reefer containers. As there won't be any time wasted on positioning and installing a clip-on generator set onto every reefer container.
The major setback of installing an undermount generator set is that the truck drivers have to be extra careful during transportation. This is mainly because an undermount generator set takes up a lot of clearance space for the undercarriage of the trailer.
In other words, any large bumps on the road will damage the undermount generator set if the truck operator does not drive carefully.
For the shippers and consignees, it generally doesn't matter whether the reefer is powered by an undermount or clip-on generator set. They are mainly concerned with having steady temperature control to minimize cargo spoilage during the cargo's transit.
However, for a truck operator. Choosing between using an undermount genset or a clip on genset is a decision not to be taken lightly. Here is a brief comparison between the two: –
| | | |
| --- | --- | --- |
| Features | Undermount Generator Set | Clip-on Generator set |
| Price | Between USD 6,000 to USD 20,000 | Between USD 3,000 to USD 5,000 |
| Rated Power | 15kW | 15kW |
| Weight | Around 600kgs | Around 800kgs |
| Size | Smaller, more compact | Larger, to accommodate ISO container dimension |
| Fuel Capacity | Smaller | Larger |
| Installation | Built onto trailer | Uninstall/reinstall on every reefer |
| Safety and Manoeuvrability | Less undercarriage space | More undercarriage space |
A genset is usually powered in two ways: fuel and electricity. The type of fuel can be either diesel, gasoline or gas.
Why this combination? Fuel and electricity are combined because the reefer container is transported on different ways.
During transport overseas, on container vessels, the genset is usually powered by the ship's electrical power.
When the genset is used on a cargo truck, it's usually powered by diesel because there is no electrical power supply available.
How much does a reefer container cost?
Reefer containers generally come in the price range listed below: –
| | | |
| --- | --- | --- |
| | 20' ISO Container | 40' ISO Container |
| Used | USD 4,000 to USD 6,000 | USD 5,000 to USD 8,000 |
| New | USD 8,000 to USD 10,000 | USD 14,000 to USD 18,000 |
Large Reefer container manufacturers in the world
Thermo King

Thermo King is an American based company that manufactures temperature control systems for: –
Railway
Shipboard
Trucks
Trailer
They also manufacture generator sets. The company is formed back in 1938.
Both the shipping carriers and the cargo owners use Thermo King, their flagship reefer container products are: –
The Magnum Plus
The Super Freezer
Carrier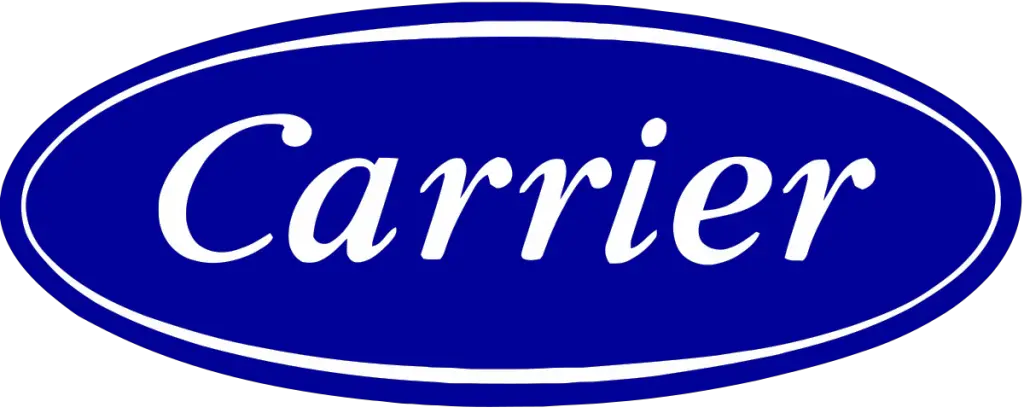 Carrier differs from Thermo King as they have a more wide-ranging product variety that caters to commercial users and consumers too.
They produce air conditioning units for your household, but one of their main business operations is also manufacturing temperature control systems for the supply chain and logistics industry.
Their main products are: –
Primeline
Thinline
Eliteline


Daikin

Daikin is founded in 1924, they manufacture reefer containers for over 40 years. One unique differentiator that Daikin reefer containers have is that they are equipped with dehumidification technology that emits hot gas into the container to speed up the defrosting process.
https://www.daikin.com/products/ac/lineup/container_refrigeration/index.html
Star Cool Integrated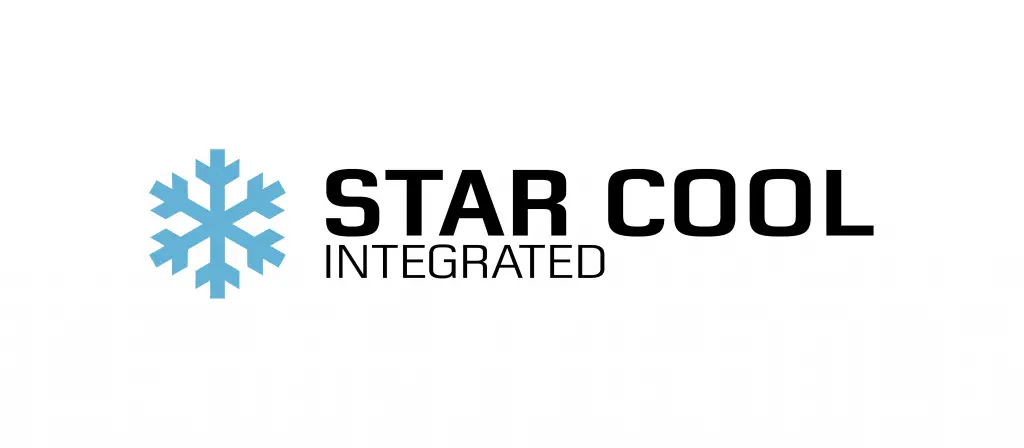 Star Cool Integrated, on the other hand, has a markedly different origin as compared to other reefer container manufacturer.
Star Cool Integrated is a subsidiary owned by the Maersk Group. As we all know, Maersk's core business is containerized vessel operation.
Having said that, Star Cool Integrated reefer containers has etched itself into the reefer container market by producing engineer friendly reefer containers.
https://www.mcicontainers.com/products/star-cool
What is a non-operating Reefer Container?
Non-Operating Reefer Container, or NOR for short, is the strategic use of reefer containers for cargos that otherwise do not require temperature control.
Although reefer containers are essential equipment in the cold chain, ship carriers around the world face a universal problem – the relocation of unused reefer containers.
The world's cargo flow is not something that ship carriers can control. Global trade follows trade patterns that are indicative of a country's produce.
As an example, the European Union is a net importer of Meat from Argentina, Brazil, Australia and New Zealand.
According to studies, New Zealand exports around 500,000 tons of fresh or frozen meat of swine, bovine, sheep or horses to the European Union.
On the flipside, the EU only exports 10,000 tons of fresh or frozen meat back to New Zealand.
Therefore, the EU has a surplus of reefer containers in container yards, that do not have demand to use.
Carrier owned reefer containers face the issue of repositioning all its reefer container back to New Zealand for its subsequent voyages.
One of the solutions is to use reefer containers that are not operational. Without the temperature units turned on, they still can function as a food-grade container.
Source: Sun, Pei-Jen,Repositioning of empty reefer containers: Problem and Strategies, MSc in Maritime Economics and Logistics, 2010/11
What are Reefer Container Alarm Codes?
https://www.thermoking.com/na/en/alarm-codes.html
Reefer containers have a lot of moving parts involved. A sea voyage can take up to 30 days, therefore, reefer containers are equipped with monitoring system that guide container engineers to maintain and repair the containers.
Each container manufacturers have different sets of alarm codes for technicians to troubleshoot the container, as an example: –
00: Status Green – OK to Run
02: Status Yellow – Check evaporator sensor coil
03: Status Yellow – Check Return Air Sensor
It is beneficial that shippers and consignee are equipped with the alarm code manual.
When consignees receive that container. It is customary for the consignee to check the monitors to see if any crucial alarm codes could damage the cargo during transit.
This has to be done before breaking the container seal and unloading the cargo, in order to establish a clear line of responsibility.
If the consignee receives the container in a damaged state. The consignee should alert the shipper, the carrier, and the cargo transporter. The consignee also has the right to refuse the delivery. Of course, shippers and consignees also refer to the transport INCOTERM as well to determine who is responsible for which leg of the transportation.
Best Practices for Reefer Container
1.     Ensure that the power supply's voltage does not fluctuate
2.     Ensure reefer container temperatures are in range.
3.     Evaporator Motor and Frequency Converter.
4.     Use Reefer container with simple control panels
5.     Do not bring cargo to temperature using the reefer container
6.     Ensure the reefer containers are seaworthy before accepting
7.     Always double check temperature requirements
Reefer container capacity and dimension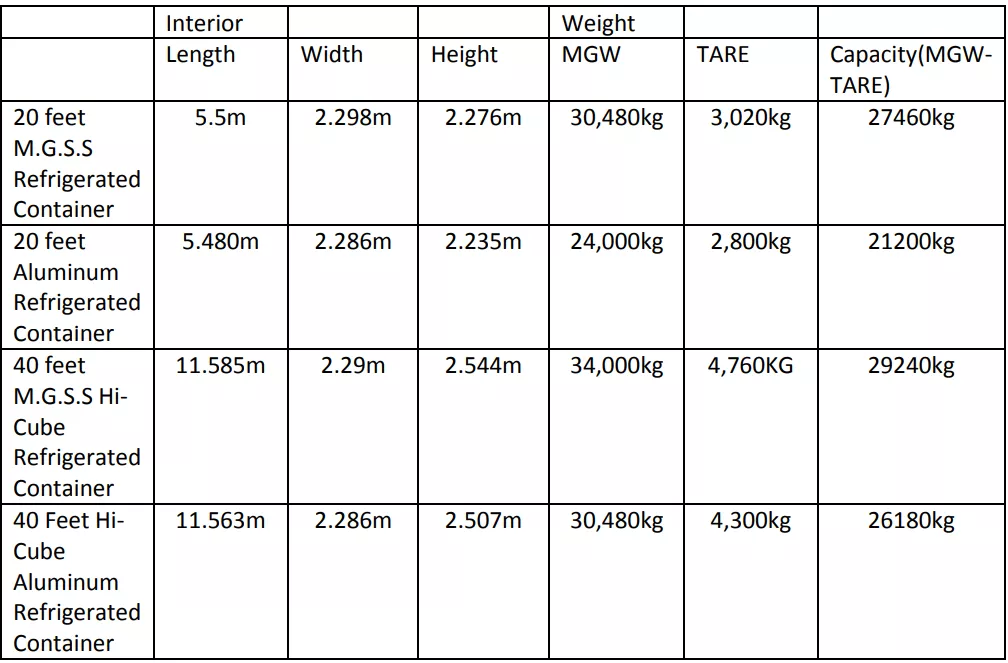 M.G.S.S is a specific word in reefer container, we found the explanation as follows "The inner anti-collision plate is typically a plate member made of Muffler Grade Stainless Steel (MGSS) with a thickness of 0.7-1.6mm, and is spot-welded to the outer surface of the inner side plate to strengthen the inner side plate"
Reefer containers need to have some special foam between the inner side plate and outer side plate to isolated heat from 8 outside and keep the temperature under control inside. That is why the capacity is less than the normal container box.
Cargos transported in Reefer Container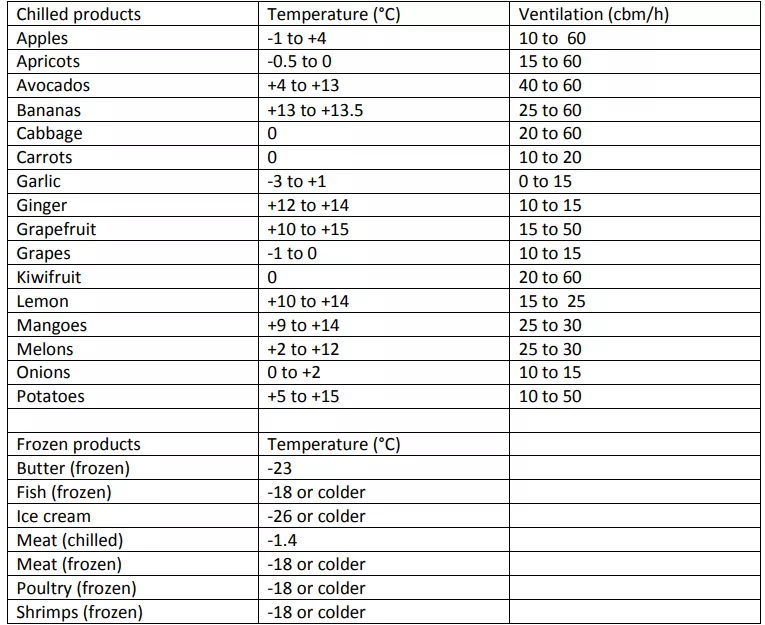 ---
Source: Sun, Pei-Jen, Repositioning of empty reefer containers: Problem and Strategies, MSc in Maritime Economics and Logistics, 2010/11
Additional Source: https://maxfreights.com/is-my-container-seaworthy/