TL;DR
Yes, there are times that a freight forwarder is not necessary. Especially when the freight forwarder themselves are not an asset-based freight forwarder.
If you have a complete understanding of your cargo's custom clearance requirements and have a strategic overseas agent to handle your delivery, there is no benefit to using a freight forwarder.
In addition, you also happen to have a high enough cargo volume to get favorable freight rates from transporters, and of course, most importantly have the time to arrange transportation.
If that is the case, congratulations! you are a bona fide logistics specialist for your product. You do not need a freight forwarder to do something you already know and have the necessary manpower to operate your logistics division.
To interject that idea, a freight forwarder's role, throughout the years, has become increasingly wide-ranging and complex. Some go to length to describe a freight forwarder as the "architect of transport".
But I contend, that equipped with the right knowledge of your cargo, and expertise in logistics matter. You can reduce your cost of transportation by eliminating the middle man.
Of course, another interjection is that not all freight forwarders are built the same. In this industry, every freight forwarder is like a Fingerprint.
Just like not anyone fingerprint is formed the same way, not all freight forwarders are the same either. Freight forwarders with a strategic edge bring value to the supply chain that proves to be beneficial
If you are still here, let's look into the specific conditions where you do not need a freight forwarder for your business.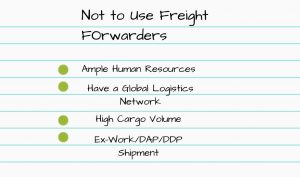 When You Have Time
Time is money, we've heard that one before. So, what you are getting from hiring a freight forwarder, is time.
Communication takes time, the back and forth between shipping agents, transporters, customs brokers, warehouse operators, etc… takes time. Everyone has to be on the same page to have a smooth transport arrangement.
That is what a freight forwarder does, they get everybody on one page. The warehouse operators have the packing list and the delivery schedule for storage planning, the customs broker has the documentation necessary for clearance, the shipping agent has the necessary information for booking confirmation, and of course, the transporters know when the cargo is ready for collection or delivery.
When your supply chain organization is consistent, added by the fact that your business has a long-standing relationship with the logistics providers, you can effectively do without a freight forwarder.
When your INCOTERM is Ex-Work or DAP/DDP
We will elaborate further on what is an INCOTERM in another blog post.
But for the purpose of this article, an INCOTERM briefly ascertains which leg of the logistics supply chain you are responsible for, and which leg of the supply chain your importer/exporter is responsible for.
Ex-Work Shipment
From the perspective of an Exporter, if your sales contract with your buyer specifies that the cargo is arranged as an Ex-Work, your sole job is to have your cargo of sales be ready for transportation, and the importers take up the responsibility from there.
In other words, you have to ready your cargo at a time and place, usually at your own factory, and everything else is taken care of by the importer.
So, there is essentially no need for a freight forwarder. There is nothing to prepare and arrange.
DAP/DDP Shipment
On the contrary, from the perspective of an importer, if your procurement overseas is arranged in either DAP/DDP INCOTERM (Delivery At Place/Delivery Duty Paid), every aspect of the transportation of goods is arranged by the exporter themselves.
Of course, the cost of transportation will definitely reflect in a higher invoiced price of your goods. But you save the need of engaging a freight forwarder altogether.
There are many other INCOTERMS Rule that lay in between the Ex-Work and DAP/DDP Incoterm. For any of the other INCOTERMS, both parties are responsible for some aspects of transportation.
If you really want to save the hassle and headache of transportation. Look to engage with your contracting parties to work under those two INCOTERMS.
When You Have an Overseas Freight Forwarder for Delivery
This is the bread-and-butter of a freight forwarder, having a global network of the logistics service providers to provide last-mile delivery services to their customers.
Recall the INCOTERM arrangement mentioned previously, an INCOTERM specifies which aspects of the logistics leg from start to finish is allocated to the importer or the exporter.
If you are an Importer, and the arrangement with your Exporter is an Ex-Work shipment, from your point of view, you have to arrange the transportation holistically. To do that, you have to have a logistics agent at the port of origin.
Similarly, if you are an exporter, and the arrangement is a DAP/DDP shipment, you too need to arrange the transportation of your goods from start to finish.
Say that you are dead-set on avoiding the hassle of arranging transportation, you need to tweak the INCOTERM to your favor and direct all the responsibility to your seller/buyer.
Another way of going around this is directly contacting the agents overseas and engaging with them the transport arrangement in the opposite country. Now, this is not exactly ideal if your cargo comes from multiple countries, but it could work if you have only a few countries as your destination port or origin port.
Technically speaking, you are still engaging with a freight forwarder at the other country. However, it will cost less than hiring a freight forwarder locally. Of course, depending on how strong the local freight forwarder's global network is overall.
When You Have High Cargo Volume
This is a bit of a stretch, but we argue that having high cargo volume eliminates the need for a freight forwarder's service.
Here is the reason, economies of scale.
Freight forwarders are an outsourced service provider. If your cargo volume is high enough to justify having your own assets and personnel arranging the transportation, you can save cost from engaging a freight forwarder too.
Say as an example, you have a steady business order of 20 export containers per month to Felixstowe, UK. With that in mind, you can negotiate with a shipping agent for a long-term fixed freight contract directly.
You can opt to maintain a fleet of trucks to transport and deliver your own cargos too. Furthermore, warehouse, packing, and labeling are also outsourced services that you can opt to do in-house.
Granted that in certain countries, you require certain licenses to perform such logistic service. According to the US Customs and Border Protection Body, a private individual, partnership, association, or corporation can be a customs broker provided that there is at least one licensed officer in the entity and a brokerage license.
Be mindful that not all freight forwarders are custom brokers and not all custom brokers are freight forwarders. we detailed the differences of a freight forwarder and customs broker here
You can outsource the specific services to transport service providers, and operate the rest of the logistic services in-house, without the need of a freight forwarder.
Conclusion
Not all businesses are built the same, your business truly may not require the services of a freight forwarder. After all, not one individual knows about your business and cargo more than you. So, if you are in a situation where you are advised that you definitely need a freight forwarder, we can now say: –
Definitely maybe.