There are a plethora of maritime shipping companies that exist around the world. Each shipping company serves a different market niche, and each shipping company has different levels of market dominance.
As each shipping company has a different business philosophy that guides them and different business strategies to survive and strive in their respective market. We find the best way to understand the different types of shipping companies is by looking at the business operation of different types of shipping companies. Here in this article, we look at 6 different types of shipping companies.
Maersk Line
Maersk Line, if you hadn't known, is the world's largest shipping line in terms of total 20' equivalent containers (TEUs) transported. Based on recent trade volumes, Maersk Line transports over 17 percent of the world's containerized cargo.

Other shipping lines are closely competitive to Maersk Line, Mediterranean Shipping Company (MSC) has a share of 15.9% of the world's containerized cargo.
In isolation, Maersk Line and MSC Company seem to form a duopoly. Not dissimilar to Coca-Cola vs Pepsi, or Marvel vs DC Comics. However, taking into consideration that both Maersk and MSC are members of a 2-party alliance called 2M.
This 2M alliance is a 10-year vessel-sharing agreement on Asia-Europe, transpacific, and transatlantic voyages between the Maersk and MSC, which is the majority of the trade flow.  
Therefore, it stands to reason that the 2M alliance formed has effectively made the two international companies form a moat in the shipping line industry.
We take Maersk Line as a case study because it is arguably the most recognizable company in the shipping line industry, with its brand distinctively placed on all of its containers and vessels.
Containerized Shipping Line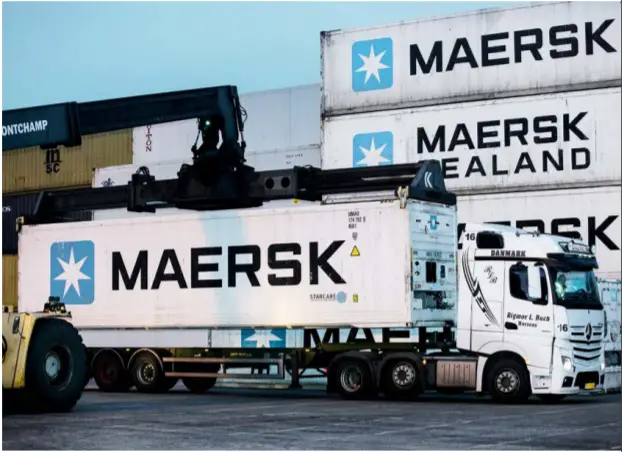 The largest division of the Maersk Group is its containerized shipping vessel operation. Maersk Line owns and charters over 600 vessels to service its Asia-Europe, transpacific and transatlantic voyages.

Maersk Line is also well positioned as a market leader in short sea shipping. Short sea shipping has a relatively short transport time and is often viewed as an alternative to road transportation. Maersk Line engages in short sea shipping with Sealand, MCC, and Seago brands.
The containerized shipping line derives is revenue by selling ocean freights. Its ocean freight is usually on a per-container basis. For Maersk Line, the average 40' equivalent rates are as per below: –
Ocean freight rate varies from month-to-month. The rates take into account the ever-changing variable costs and sell freight at a premium to earn money.
Some of the operational cost of shipping liners are: –
Terminal Handling Fees
Currency Costs
Bunker Fuel Costs
You can refer to this article to learn more on why ocean freight rate changes from month to month
Other Business Divisions
Maersk Oil
Oil Exploration is a lucrative business, which enticed Maersk Line to diversify into the oil and gas industry when Maersk is awarded oil exploration concessions back in 1962.
However, Maersk Oil's production capacity is dwarfed by the other large oil conglomerates. Saudi Aramco has a production rate of over 10 million barrels of oil per day (mbbl/day), whereas Maersk Oil's production capacity is reportedly 550,000 mbbl/day.  
APM Terminals
One of A.P Moller Maersk's subsidiary, APM Terminal boasts 161 port terminals around the world. Maersk Group has leveraged its global market position to extend its supply chain services to include port services such as: –
Container Service and Repair Port
Port Gate Services
General/Bulk Cargo Services
Quay & Marine Services
Port Facility Storage and Warehouse Services
Other Ancillary Port Services
However, APM Terminal's primary port service provided is its container handling service.
Maersk Drilling
https://www.maerskdrilling.com/
In lieu of the oil exploration concession awarded, Maersk Group also established Maersk Drilling in 1962.
Predominantly, Maersk Drilling is currently in the business of shallow water and deep-water oil drilling.
Matson Inc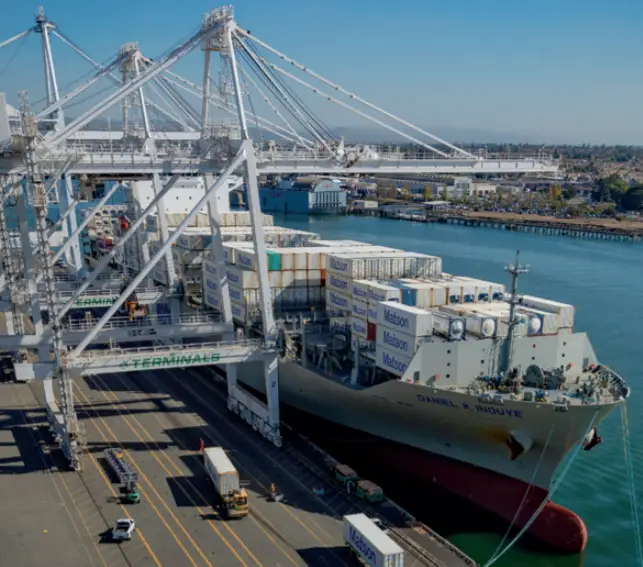 A company older than Maersk Group, Matson Group has been established for 137 prestigious years.
Having said that, Matson Group is an entirely different type of shipping company as compared to others, in terms of its overall business operations.
Matson Inc is incorporated in the state of Hawaii in 1882, 77 years before Hawaii is admitted to the union as the United States of America's 50th state in 1959.
As a shipping company. Matson group operates in a specific niche of sea shipping. Matson group built its economic moat by providing a plethora of shipping services between the port of Long Beach, Oakland, and Hawaii. Essentially, the Matson group established a steady trade route between the States of America and Hawaii.
Matson's trade route includes services such as: –
Lift-on/Lift-off
Roll-on/Roll-off
Conventional Bulk
Containerised Cargo
Matson Inc then grew its trade network by extending similar services and establishing trade routes between USA and: –
China
Guam
Japan
Micronesia
New Zealand
Reportedly, Matson Inc has 20 owned/chartered vessels, and 4 Barges in its vessel fleet management.
As a shipping company, Matson Inc has a different approach as compared with other types of shipping companies. this type of shipping company starts off by securing sufficient cargo volume before establishing a trade lane.
In other words, Matson Inc did not start as a shipping company. However, as its cargo volume grew, Matson Inc sorted for economies of scale and greater revenue potential by owning and operating its vessel fleets.
Angelicoussis Shipping Group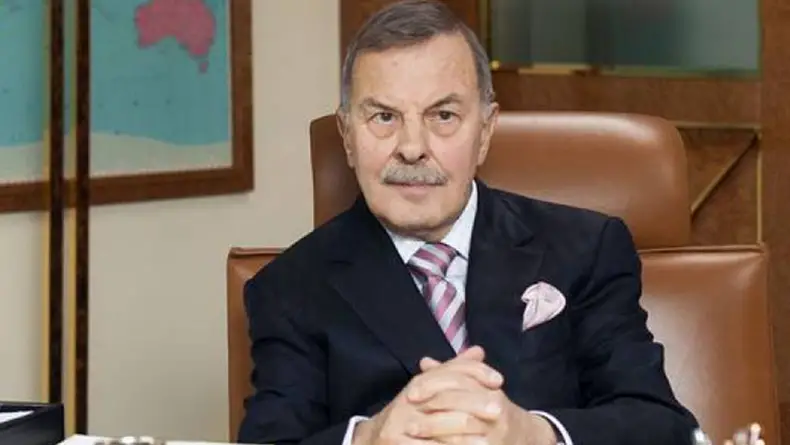 Angelicoussis Shipping Group is a relatively young company compared to both Matson Inc and Maersk Group.
This is another different type of shipping company, in the sense that Angelicoussis Shipping Group is not a public listed company. It is a family-run business.
Angelicoussis Shipping Group hailed from Greece, the world's largest ship-owning nation. The second and third largest ship-owning nations are China and Japan.
If you are keen in learning why the Greeks dominate the shipping industry, we have dedicated one article to explain why: Why Greece Dominate the Shipping Industry
John Angelicoussis joined his father, Anthony Angelicoussis, business in 1973, when he was 25 years old.
Between 1948 to now, the Angelicoussis Shipping Group has grown to operate 139 vessels. As compared to a public listed company Matson Group, which owns/charters 20 vessels with an average 3000 dwt load.
Angelicoussis Shipping Group is also a different type of shipping company. In the sense that it focuses on transporting dry bulk and liquid bulk cargos.
Maran Tanker Management Inc – Operation of Oil tanker vessels
Maran Gas Marine Inc – Operation of LNG Carriers
Maran Dry Management Inc – Operation of Dry Bulk Cargo
Unlike Angelicoussis Shipping Group, Maersk Group's main source of revenue comes from containerized cargo handling and transportation, despite Maersk Group's interest in oil and gas exploration.
Atlantic Container Line
Atlantic Container Line is also another interesting type of shipping company that has differentiated itself from other types of shipping companies.
Atlantic Container Line is a subsidiary company of the Grimaldi Group, a privately-owned, Italian based company.
This shipping company is the first in the industry to establish by integrating a consortium of 5 major European steamship companies. This will not be the only company to do so, as there is another prominent shipping company that does that (ONE Ocean Network).
Some might say that the main premise of forming a consortium of shipping companies is to share the high capital investment cost required in the shipping industry, while others might suggest that this is an unhealthy practice as it creates a market monopoly.
After all, "to consort" is to associate with a group, which may be detrimental to others.
The core business of the ACL Consortium is transatlantic Roll-on/Roll-off cargo transportation.
A Roll-On/Roll-Off vessel is specifically designed to transport cargoes that have wheels, whether self-propelled or not. Some examples of the cargoes transported by Roll-On/Roll-Off vessels are: –
Cars
Trailers
Rail Cabins
Cranes
The key differentiator of ACL Line as a type of shipping company is that it operates the largest ConRo vessels (RORO/Container), the G4.
It has the capability to transport both cargo containers and vehicles. Where containers are stacked in the upper-deck section and RORO cargos are stored in the vessel hull.
The push for the largest ConRo vessel in the world is not just a marketing ploy. A large-capacity vessel lowers the cost of transportation by drastic measures. In addition, this allows ConRo vessels to traverse deep-sea voyages.
ONE Ocean Network Express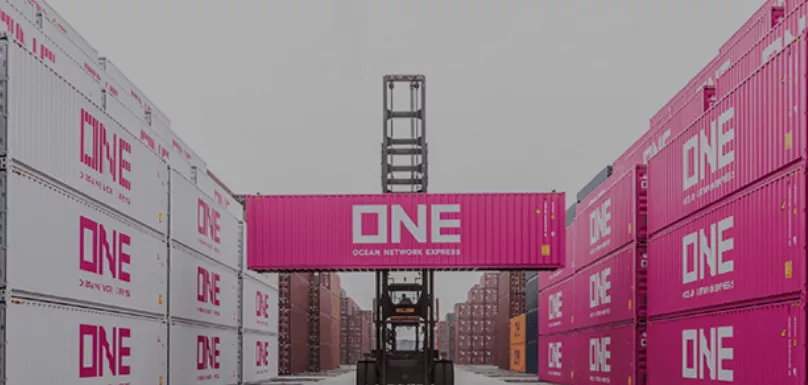 Another example of a consortium that is similar to the Atlantic Container Line, Ocean Network Express (ONE) is the result of 3 container liners: –
Nippon Yusen Kaisha (NYK)
Mitsui O.S.K (MOL)
K Line
Merging together to form a Japanese representation to the shipping line industry.
This merger is different from ocean alliances that we were accustomed to see.
An Ocean Alliance is a common occurrence in the shipping line industry where a group of shipping lines forms an understanding to share container slots and vessel slots. Albeit in a similar trade route or even different trade routes.
The largest ocean alliance, by TEUs transported, is 2M, which is a merger between Maersk Line and Mediterranean Shipping Line (MSC)
However, ONE shipping line is, again, a different type of shipping company. It is unique as all 3 merged shipping line has a share in ONE shipping line holding company. NYK has 38% of ONE share whereas both MOL and K-Line have 31%.
The merger wasn't without hiccups, the US Justice Department launched an investigation towards the merger for potential antitrust concerns.
Ultimately, only the South African Competition Commission rejected the merger, causing ONE Network to exit the South African trade routes.
To date, Ocean Network Express as a shipping line has: –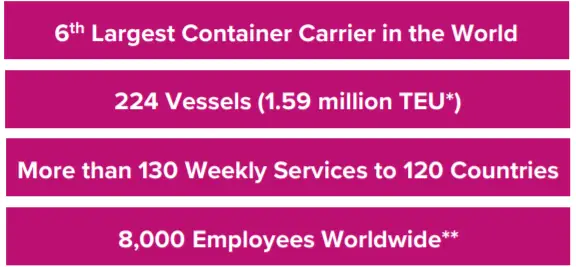 https://www.joc.com/maritime-news/container-lines/ocean-alliance
https://www.supplychaindive.com/news/ONE-South-Africa-merger-J-Lines-consolidation/446092/
https://www.one-line.com/sites/g/files/lnzjqr776/files/2020-01/ONE-Corporate-Factsheet%20%28updated%2020200115%29.pdf
Cargill Inc
For someone who has some experience in the shipping industry, perhaps Cargill Inc may not be first in your mind as a shipping company.
Cargill Inc is in the business of trading, purchasing and distribution of grain, and other agricultural commodities. Cargill is also involved in producing food ingredients such as starch, glucose, vegetable oil etc…
Cargill Inc is also, in fact, a type of shipping company; A very large shipping company.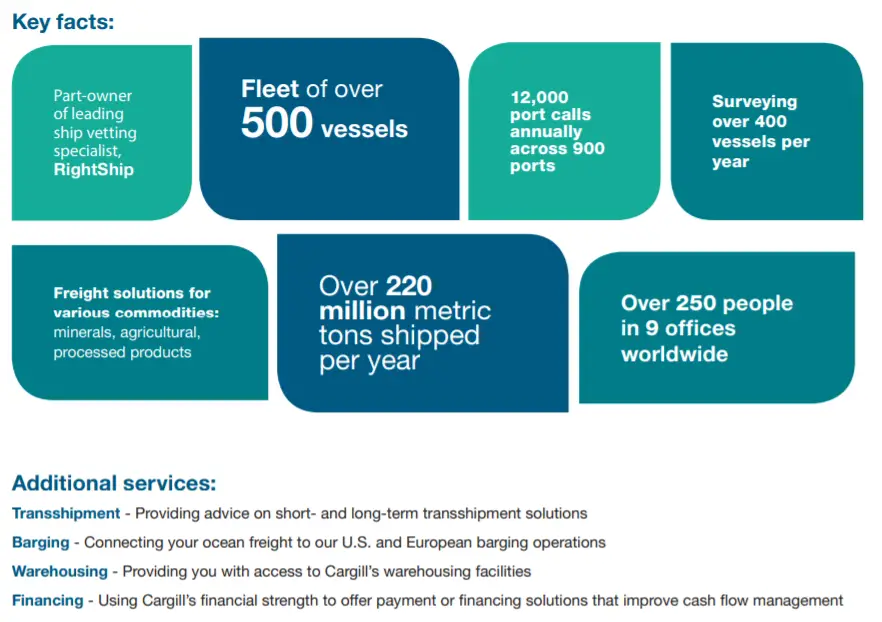 https://www.cargill.com/doc/1432076808585/ot-brochure-2015.pdf
Recall that Maersk Group is owns or charters 600 vessels around the world, and transport roughly 17% of the world's containerized cargo. But, Cargill Inc is only one conglomerate, and it owns or operates a fleet of 500 vessels.
In Summary
To conclude, each type shipping company are different in its own unique way.
Companies such as Matson Inc begins as a cargo transporter before investing into vessel owning and chartering, whereas companies such as Maersk Line are specialist in containerized shipping.
There are other types of shipping companies where it is a merger between several shipping company such as ONE line, some form consortiums such as ACL line.
Prominent conglomerate companies such as Cargill Inc has its own fleet of vessel, in order to serve its own transportation needs. But at the same time, extend its over 500 vessel fleets to other charterers as well. This also makes them a prominent shipping company.