Have you ever wondered, what is the one important factor that made the world embraced global trade that is often overlooked? Some countries have geographical and socio-economical advantages over others to produce certain goods. For example, cocoa beans require a certain type of climate and an extensive labor force. But, chocolates are enjoyed by everyone around the world. Yes, just as the title suggests, a Free Trade Zone is one of the major catalysts that improve international trade. So, what is a Free Trade Zone?
Free Trade Zones or Foreign Trade Zones are areas of trade that enjoy preferential tariff treatments and simpler customs procedures. The intended effects of these benefits are to spur economic growth, increase the employment rate, increase productivity rate, and increase foreign direct investment from international corporations. Free Trade Zones does so by categorizing these "Zones" to be outside of normal customs territory, or principal customs area. Nevertheless, customs and partner governing agencies ' policies do apply. Besides, when goods exit the designated Free Trade Zones, all applicable tariffs, and customs procedures will be implemented on said goods.
Amidst all the advocation that a free trade zone generally brings prosperity to a country, it can bring upon significant changes that will impact the country's economic and socioeconomic conditions. Economists have studied whether free trade zones are either good, bad, or both. Politicians too split public opinions on the net effect of free trade zones.
Whether good or bad, Free Trade Zones are part and parcel of international trade, and it is good that we be mindful of what a free trade zone is.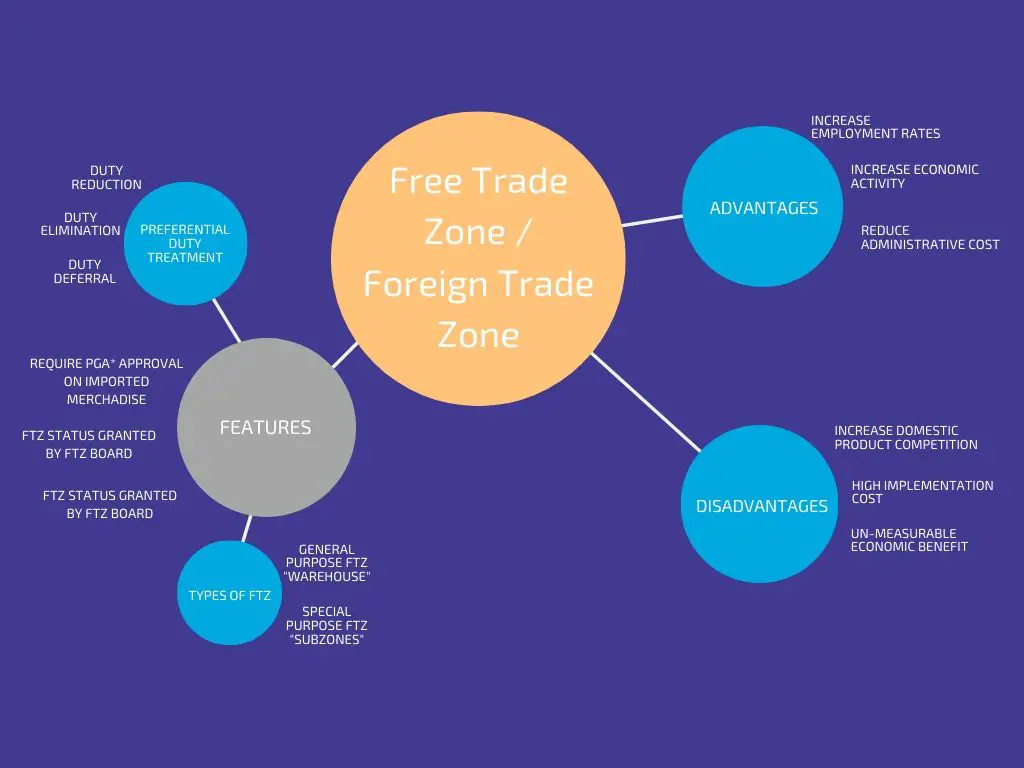 Features of a Free Trade Zone
We understand now that the general idea of a Free Trade Zone is to benefit local economies. But what are the conditions that a free trade zone has that sets it apart?
First things first, a free trade zone encompasses an area where economic operators in that zone are free from applicable duties and tariffs on the goods in the free trade zone. Specifically speaking, there are 3 different duty treatments on cargos in the foreign trade zone.
Duty Deferral
Duty Reduction (inverted tariff benefit)
Duty Elimination (re-export/waste disposal)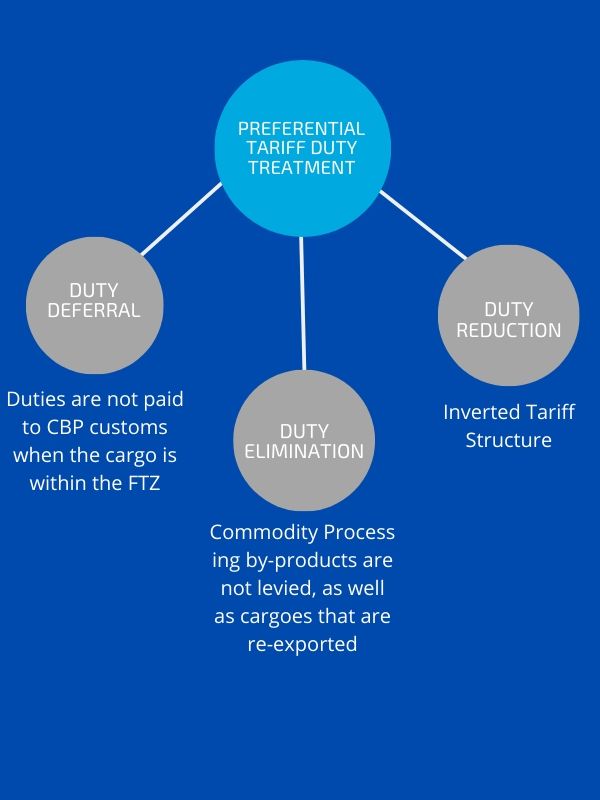 1. Duty Deferral
Duty deferral is one of the main features that makes free trade zones enticing. For cargos imported for domestic consumption, they can be placed in a warehouse facility designated in the free trade zone, stored until the imported good finds a buyer.
The importer, once receiving payment from the buyer, will have enough capital to pay the imposed tariff duty and bring the cargo out of the free trade zone.
Any form of monetary deferral can help a business with its cash flow. Therefore, importers can exploit the duty deferment to manage cash flow.
Not to mention, that importers that seek external sources of funding to finance the tariff duty payment will save on the interest rates applied.
2. Duty Reduction
For situations where tariff duty rate for the raw material, is higher than the tariff of the finished product from that raw material, or vice versa, we have an inverted tariff condition.
FTZ Privilege Status
As a hypothetical example, you are a textile products tycoon from Europe that explores the US market for selling shawls that are made of cashmere, or goat fur.
You proceed to do your homework and study the applicable tariffs and customs procedures to import the cargo into the USA.
| | | |
| --- | --- | --- |
| Commodity | HTS Code | Applicable Tariff Rate |
| Shawl | 6214.90.000 | 11.3% of commercial invoice value |
| Uncleaned Raw Cashmere | 5102.11.100 | 5.1 cents per kilogram |
Additional Reading: What is a HS Code
Moreover, you sourced your cashmere raw materials from China priced at USD 85 per kilogram. Since you are expecting to produce a large number of cashmere shawls, you signed a contract to purchase 20 tonnes worth of cashmere per month.
Since you planned on setting up a factory to produce the shawls to sell, you now have only 2 options available to you: –
Set up a factory in China
Set up a factory in the USA Foreign Trade Zone
Now, you look at the cost of manufacturing from either China or the USA. The commercial value of manufactured cashmere shawl from China into the USA is priced at USD 42 per piece.
With all this in mind, you now make a simple production cost estimation per month.
Variable
Producing in China
Production Cost per unit
USD 42.00/pcs
Units Imported per month
10,000 pcs
Total Commercial Value
USD 420,000.00
Tariff Rate
11.3% of Commercial Value
Duty Rate
USD 420,000 x 11.3% =
USD 47,460
Total Cost per Unit
(USD 420,000 + USD 47,460)/10,000 units =
USD 46.746 per pcs
Variables
Producing in the USA
Production Cost per unit
USD 17.00/pcs
Raw Material Cost
USD 85.00 per kg
Amount Cashmere Imported
3,000 kgs
Units produced
10,000 pcs
Tariff Rate
5.1 cents per kg
Duty Rate
3,000 kgs x 5.1 cents = USD 153
Raw Material Cost per pcs
((USD 85.00 x 3,000 kgs) + USD 153)/10,000 pcs =
USD 25.52 / pcs
Total Cost per Unit
USD 25.52 + USD 17.00 =
USD 42.52 per pcs
The total cost per unit of producing including duty tariff in the USA is USD 42.52, whereas the total production cost per unit including duty tariff in China is USD 46.746
Then again, since the raw material is processed in the Foreign Trade Zone, once you move the cargo out of the free trade zone into the domestic market, the duty rate of 11.3% of invoice value is STILL applicable.
HOWEVER, you can apply for a "Privileged Status" in the Foreign Trade Zone, where you can choose to pay the raw material import tariff rate instead of the finished product tariff rate.
In conclusion, it would still be cheaper for you if you import cashmere fur into the USA and manufacture it in the Foreign Trade Zone. You end up paying an effective tariff duty of USD 5 cents per kg of cashmere instead of 11.3% of commercial value.
FTZ Non-Privilege Status
The other example of duty reduction utilizing a Foreign Trade Zone is where importers claim a "non-privilege status".
This is commonly seen in the automotive industry, where parts of the automobile have a higher duty rate as compared to the finished automotive product. In this instance, car companies that were granted FTZ status can choose to pay the lower duty tariff of the finished automotive products. Effectively speaking, the FTZ Board allows car companies to import parts at no duty cost, encouraging major corporations to set up manufacturing facilities locally.
3. Duty Elimination
Re-Exportation
Another feature that Foreign Trade Zones have is the exemption of duties. However, the cargo imported into the free trade zone may never be used for domestic consumption. It is best to think of it this way, Foreign Trade Zones are areas that are considered not under principal customs control; therefore, the cargo is not fully "imported" into the country yet.
There are primarily two reasons why an importer may want to import a cargo, only to re-export it to another country.
Cargo Consolidation
Cargo Transhipment
Cargo Storage
Cargo Consolidation and Cargo Transhipment are more prevalent where the airport or seaport acts as a hub in a hub-and-spoke transportation network.
Take Ted Stevens Anchorage International Airport in Alaska for example, Alaska may not boast the high passenger traffic, but it is in fact the second busiest airport in the world in 2018.
Anchorage Airports is located strategically in between the North American continent and Asia, specifically the topological area that is divided by the Pacific Ocean.
Anchorage Airport has found a new lease of life in consolidating cargos to-and-fro American and Asia for E-Commerce cargos. According to resources, it is located less than 10 hours from 95% of the major global markets. Naturally, the airport operating as a Free Trade Zone allows cargos to be consolidated and de-consolidated at Anchorage, without incurring and tariff duty on the cargos that landed in Anchorage.
Cargo Disposal
There are two instances where duty elimination comes from cargo disposal: –
Waste of processing by-product disposal
Destroyed Cargo
In the first instance, it is applicable in the oil refinery industry or any chemical processing industry. Any waste or by-products from the process of an oil refinery or chemical synthesis are free from any levied tariff duties. This is only applicable if that the waste or by-product is not subsequently imported for domestic use too.
In the second instance, any cargos that are damaged during the transportation process that are disposed of in the foreign trade zone are also free from tariff duties.
Permit Requirements Still Apply in Foreign Trade Zones
Free trade zone is not exactly a safe haven from all permit requirements. As an example, the Lacey Act amendment of 2008 requires shipments carrying plants or plant products such as: –
Fruits
Vegetable
Plants
Flowers
Seeds
to declare to the Animal and Plant Health Inspection Service (APHIS), even if the cargo is entering a foreign trade zone.

Another important Partner Governing Agency, the FDA has a different approach to concerned goods entering the Free Trade Zone, the FDA leans to the CBP for the definition of "import". The cargos entering a Foreign Trade Zone is not considered to be "imported or offered for import", therefore the goods do not have to FDA compliant.
When the goods are brought into the USA for domestic consumption, the FDA will then have the full administrative power to determine whether the goods are fit for US consumption, and all the applicable product requirements by the FDA must be met.
Advantages of a Free Trade Zone
Apart from the features of having a Free Trade Zone, which is the tariff duty treatment of the raw material and finished goods. The net savings from the tariff duty costs are directly transferred to the local consumers. In isolation, that added benefit is the main reason why Small Medium Enterprise and large corporations choose to base their economic activities in the free zones or "Subzones".
But there are ripple effects that positively impact the local communities surrounding the Foreign Trade Zones as well, benefits that are otherwise transferred to foreign nations had it not been for the Foreign Trade Zone areas.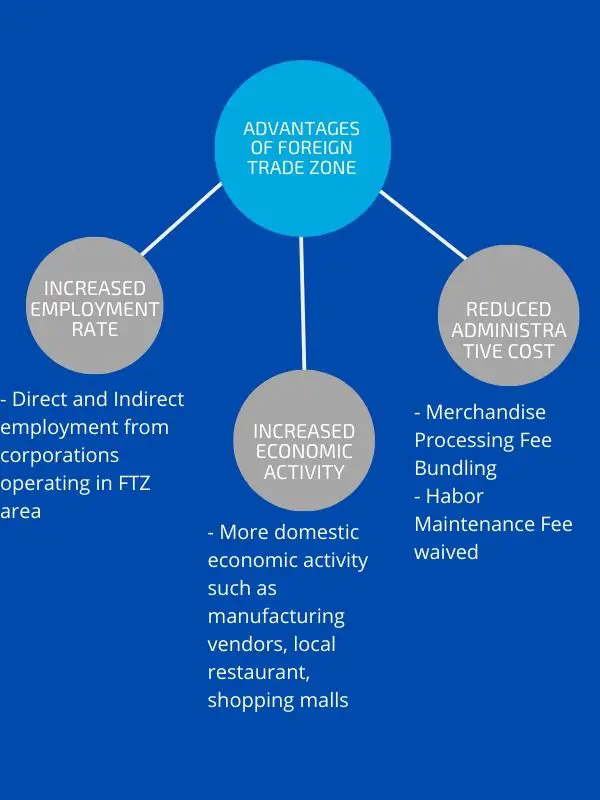 1. Increased Employment Rate
The positive impact of a Foreign Trade Zone is not only restricted to the area within and near the vicinity of the FTZ. On aggregate, it does appear to have a wide impact on the nation as a whole, if we zoom into the local communities in which the FTZs are active, the positive impacts are even more pronounced.
One of which is the increase in employment rate within the FTZ. The BMW factory based in South Carolina was an FTZ grantee beginning in 1992. Subsequent years since BMW factory is built has seen a direct increase of employment in the FTZ of 10,000 workers, and 36,285 workers indirectly.
ExxonMobil has established an oil refinery plant in Baton Rouge, Louisiana. They refine imported crude oil into jet fuels and ship it to local airports tax-free since airports are also granted FTZ status as well. Overall, ExxonMobil has 6,600 workers under its employ.
Yamaha Motors Corporation US produces various recreational transport vehicles in Newnan, Georgia. Altogether, YMC has 1,600 workers employed in the Free Zone too.
2. Supplementary Economic Activity Increases
With every increase in employment, it sees an increase in public spending, especially in the local region. Economically speaking, a boost in employment directly results in increased local production. One man's spending is another man's income. Hence, supplementary businesses on levels in both business and consumer level also receives a boost in growth.
On a business level, manufacturing plants such as the ones listed above, BMW, ExxonMobil, and Yamaha, will invariably source manufacturing parts locally as opposed to importing parts from overseas.
On a consumer level, the increased income levels of local communities will also increase their spending capacity too. Local businesses such as restaurants, bars, malls, and gas stations will benefit from the increased spendings from the employees from the FTZ too.
A study in 2017 finds that every 10 jobs that are directly generated in the BMW US facility result to another 90 jobs created elsewhere in the US economically.
3. Administrative Cost Savings
Merchandise Processing Fee Bundling is sited as one of the major contributing factors in transportation cost savings. The benefit comes from the way an FTZ factory is monitored and administered.
Merchandise Processing Fee is an additional fee collected by the US CBP. For every custom entry filed to the US CBP, it will charge an effective ad valorem tax rate of 0.3464% of the invoice value. It covers the salaries and costs of the CBP in the process of releasing merchandise into the US.
There is, however, a minimum and maximum amount cap of MPF fee charged per custom entry. A minimum of USD 26.79 or a maximum of USD 519.76 per entry, which translates to a minimum charge per entry of invoice value of USD 7,734 and a maximum of USD 150,046.
With that in mind, an FTZ grantee firm can bundle its customs declaration into invoice values for any amount larger than USD 150,046, and any amount above that will not be taken into account as an MPF fee.
It is easier for an FTZ grantee firm to bundle customs declaration as opposed to the standard import processing. Firms without FTZ status will incur an additional storage cost when its merchandize is stored in an FTZ warehouse, whereas an FTZ grantee firm does not pay a warehouse storage fee to store its merchandise in its premise.  
Harbor Maintenance Fee Bundling is also another fee administered by the CBP, it is charged to any users who benefit from the US port and harbors, the fee collected will be used to maintain all the US ports and harbors. The HMF fee is only collected on imports and domestic shipments, at an amount of 0.125% of the declared invoice value.
However, 19 CFR 24.24(6) on Harbor Maintenance Fee spells out that: –
"Cargo entering the U.S. in bond for transportation and direct exportation to a foreign country, unless, with respect to cargo exported to Canada or Mexico;"
This means that cargos entering the FTZ that are destined to be re-exported to countries other than Canada or Mexico (participants of the NAFTA Trade Agreement) are exempt from the Harbor Maintenance Fee.
Disadvantages of a Free Trade Zone
With all the well intentions of the US government to spur economic growth in 1934, when it introduced the Foreign Trade Zone Act in 1934, there are constituents that believe that the disadvantages outweigh the benefits of an FTZ.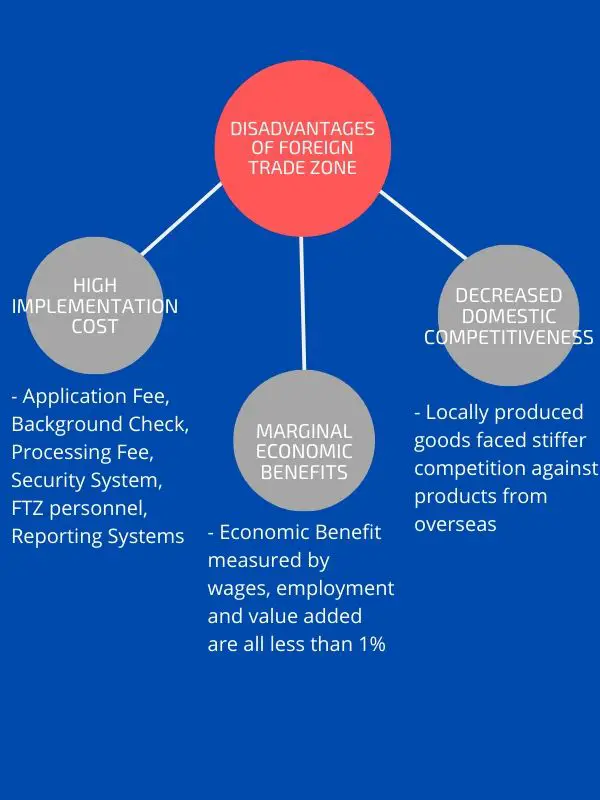 1. High Cost of Implementation
Setting up and applying for an FTZ status entity is a long arduous process, and the initial investment capital is very high as well. The benefits from duty reductions, savings, and other tax benefit will not be recovered during the short-term period.
At a larger scale, when BMW decided to move its manufacturing operation to Spartanburg, South Carolina, BMW had committed to an investment of USD 600 million to a total of USD 9 Billion dollars in the ensuing 24 years.
There are also start-up and maintenance cost associated with operating in an FTZ, application process, and the requirement for CBP to conduct background checks on importers and FTZ operators, physical security system, an inventory control system that tracks the movement of products, full-time personnel to manage the zone, and an annual fee to the zone grantee for managing the zone.
We may not relate to the scale in which BMW operates, but the decision process of BMW is universal even for small or medium-sized enterprises. In conclusion, the net tax and tariff savings have to outweigh the initial investments.
Since the potential savings are spread throughout many years, so too the company's business risk exposure is spread throughout the number of years. Many factors can render a business immobile from investment overcapacity.
Change in political structure, FTZ grant renewal is not automatic and is subject to approval every year.
Change in economic demand for the product, a slow down in domestic demand for the product may strain the company that has high capital interest
The emergence of Free Trade Agreements, FTAs such as NAFTA eliminates trade tariff barriers. Current FTAs may be accounted for, but future FTAs signed by multilateral nations may put FTZ out of use.
All of the above economic conditions cannot be predicted successfully, and for a business to invest heavily in the pursuit of an FTZ subzone, they have to be aware of this potential "tip" in business environments.
2. Overall Benefit of FTZ is Marginally Small
A report by FTZ economic study analyses the benefit that came from FTZs that otherwise may not be transferred to the local states. The report considers three main reference points: –
Employment Growth
Wages Growth
Value-Added Manufacturing Growth
In fact, across the board, all three variables show that there is a statistically significant increase in growth in FTZ zones when compared to areas without FTZs. Over the 10 years, employment growth increased by 0.19%, overall wages growth increased by 0.34% and value-added manufacturing growth rose by 0.37%.
While on a micro level, companies such as BMW manufacturing revived the lull of Spartanburg, South Carolina, a town that was in a rut due to the loss from the textile business. But with economic growth figures than comes in less than 1% over 10 years. The opportunity cost might be higher than that.
3. Decreased Domestic Competitiveness
The healthier business environment for corporations in an FTZ comes at an opportunity cost of increased direct competitiveness with locally produced merchandise.
FTZ Zones are commonly in place to entice foreign direct investment, with a notion to bring over loss manufacturing activities to local areas that wouldn't be there if there wasn't a Foreign Trade Zone.
But the merchandise manufactured in FTZ comes in direct competition with locally produced products. BMW will directly compete with General Motors for the same pie of local consumption. IF we believe in the law of zero-sum, the gain in BMW sales will directly result in a loss in General Motor's revenue.
GM also employs local workers, outsource to local suppliers for auto parts, and increase overall productivity in states which they set up manufacturing activities. Lower profitability in GM due to foreign competitors may cost the livelihood of local communities as well.
Of course, the law of zero-sum is not entirely true, there are so many other variables at play in the economic engine, we merely state the fact that an increased foreign competitor in a supply of a product will, in any degree, affect local producers as well.
Resources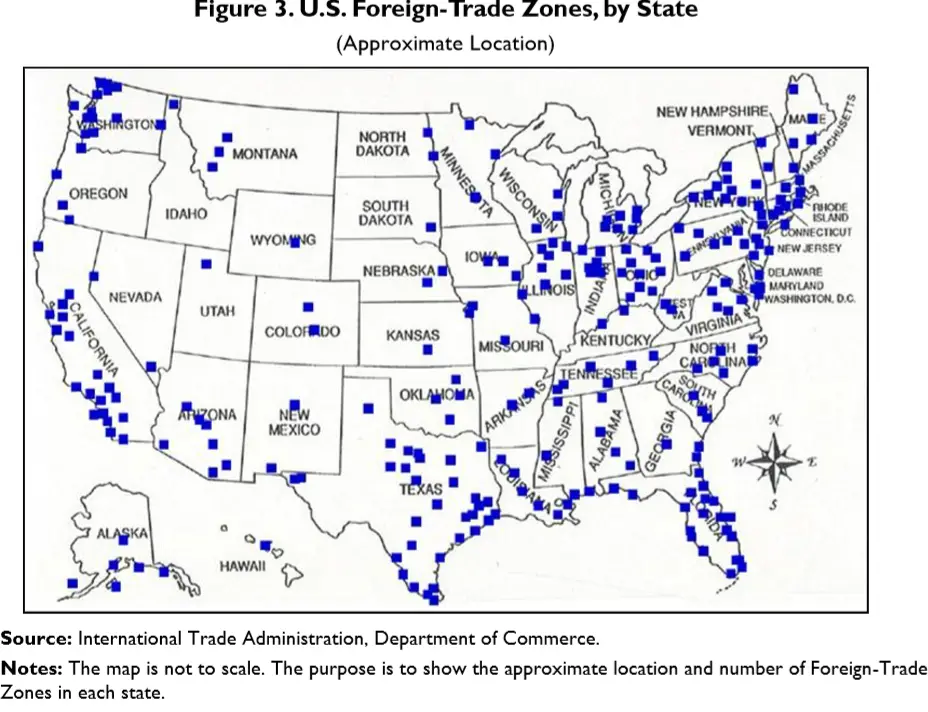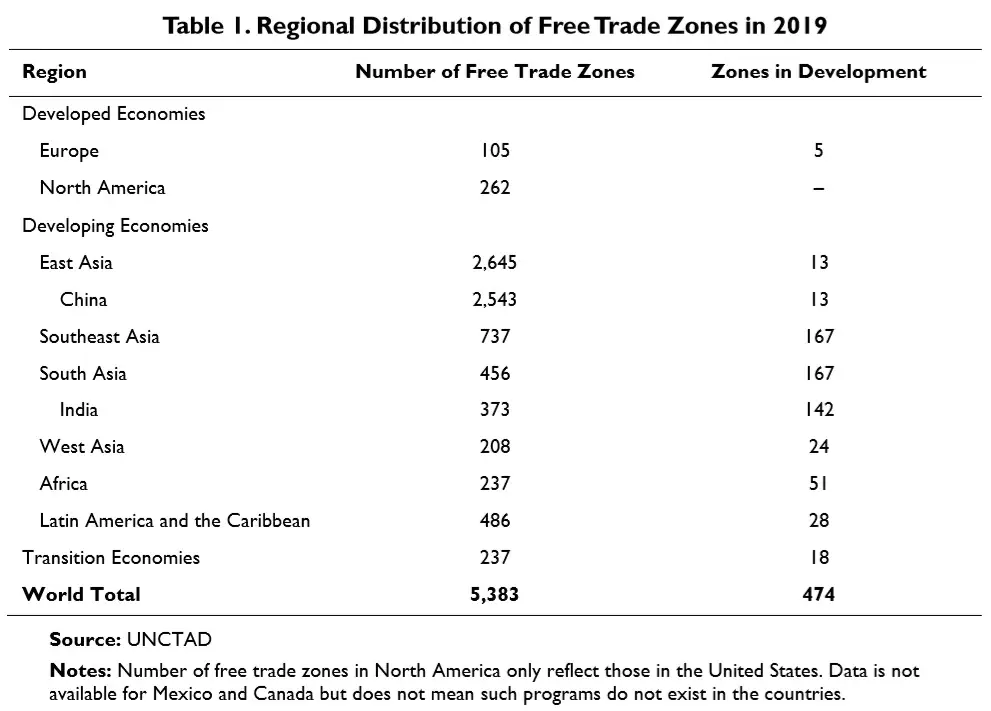 Trade Zone Program. Journal of Transport Geography, 34, 1–6. doi:10.1016/j.jtrangeo.2013.10.015 
Chen, W., & Li, H. H. (2014). The Impact of Shanghai Pilot Free Trade Zone on Logistics Industry. Advanced Materials Research, 1030-1032, 2647–2650. doi:10.4028/www.scientific.net/amr.1030-1032.2647 
Riccardi, L. (2016). The New Concept of China (Shanghai) Pilot Free Trade Zone. Investing in China through Free Trade Zones, 63–118. doi:10.1007/978-3-662-47354-2_5 
Mo, J. (2001). The Greater China Free Trade Zone within the WTO. The Journal of World Investment & Trade, 2(1), 87–121. doi:10.1163/221190001×00158 
https://www.aphis.usda.gov/plant_health/lacey_act/downloads/ftz-faqs.pdf
https://www.nbcnews.com/politics/politics-news/companies-beat-tariffs-during-depression-here-s-how-they-could-n855351
https://www.govinfo.gov/content/pkg/FR-2019-08-02/pdf/2019-16582.pdf
https://www.ecfr.gov/cgi-bin/text-idx?SID=4e44af8ab40f0b031f59818dabf77a21&mc=true&node=se19.1.24_124&rgn=div8
https://enforcement.trade.gov/ftzpage/19uscftz/ch1a.html