Bill of Lading and Shipping Manifests are both essential trade documents. However, the intended users of both documents differ. Freight forwarders and international traders both may not have any use of a shipping manifest, but it is used by port operators, customs officers, and vessel operators. So, what is the difference between a bill of lading and a shipping manifest?
Vessel Operators such as shipping agents and shipping liners create a shipping manifest for the vessel voyage, which lists down all the cargo details carried during the voyage as well as the vessel information itself. It is top-level information reviewed by the customs officer, partnering governing agencies, and port operator before the approval of vessel departure and vessel arrival. On the other hand, a bill of lading further breaks down the cargo information to the shipper and consignee level. Before the release of cargos, customs officers and partner governing agencies refer to the bill of lading as a supporting document.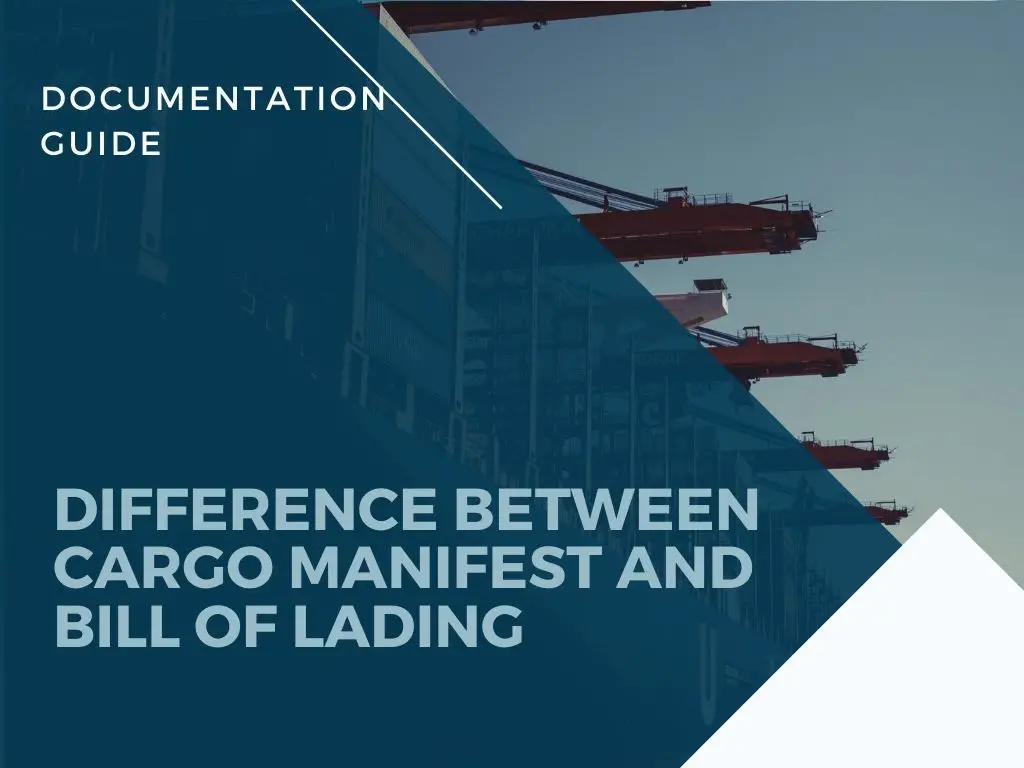 Difference Between Shipping Manifest and Bill of Lading
In our opinion, the best possible way to describe the difference between a shipping manifest and a bill of lading is to describe the document flow from export from the port of origin and import at the destination port.
You will notice that one document cannot exist without the other. Even though different countries will have a different treatment or procedure when handling cargo manifests and bill of lading, the general procedures as quite universal.
Export treatment of Shipping Manifest and Bill of Lading
For cargo exportation, a bill of lading is created before a shipping manifest.
The reason behind that is because a shipping manifest is a summary of vessel and cargo details for that voyage, and these details are compiled from the bill of ladings.
Vessel information such as below requires time for the shipping agents to compile and prepare for the use of port operators and customs officers.
Vessel Name
Vessel IMO Number
Port of Loading
Transhipment Port
Port of Discharge
Voyage Number
Shipping Agents also have to coordinate with freight forwarders and shippers alike to compile specific cargo details. The information included are such as: –
Cargo Description
Cargo Weight
Cargo Packaging
Shipper Details
Consignee Details
Freight Arrangement Details
Once all these details have been compiled, there are other crucial information required from the Shipping Agent as well, which includes: –
Container Number
Container Seal Number
Port Warehouse Information (LCL arrangement)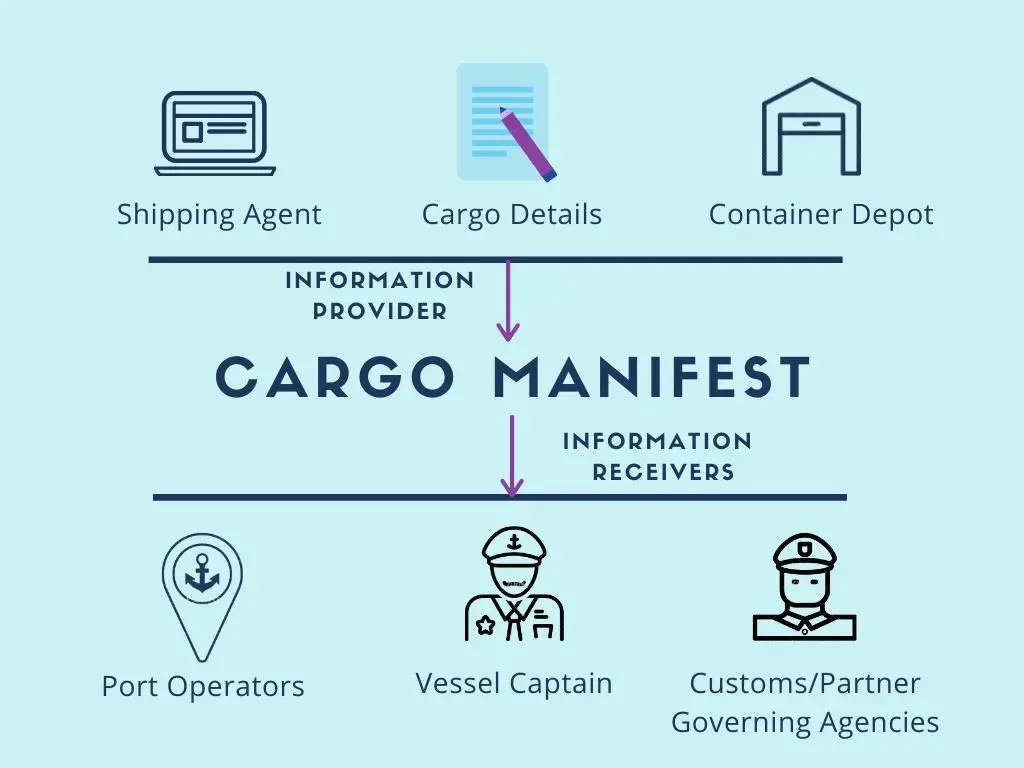 More importantly, in logistics operation, all these shipping details are not received in an orderly fashion.
As an example, not all shipper has the facility to provide a VGM (verified gross mass), therefore requires outside support to provide such detail, such as the port operator. Consequentially, shipping agents are not able to provide that information in due time.
Another example is where there are changes in shipping, cargo, and vessel details. All of which has to be updated in the shipping manifest promptly.
With this in mind, the complete shipping manifest is prepared the cargo after cargo, shipping and vessel details are finalized.
In modern times, shipping manifests and cargo manifests are submitted electronically to the intended users below: –
Customs Officer
Partner Governing Agencies
Port Operators
Customs officers and partner governing agencies approve the cargo manifests once they have determined that the cargos loaded into vessels are up to customs and agency requirements.
Port operators refer to the shipping manifest to plan its container loading/unloading, vessel berthing plan, and other supplementary services.
Once the shipping manifests are prepared and in order, the shipping agents will issue the bill of lading to reflect the voyage shipment. All of the information listed above is required details for the issue of bills of lading.
Which is why shipping manifests has to be in order first before issuing a bill of lading.
Import treatment of Shipping Manifest and Bill of Lading
For cargo importation, all necessary shipping documents are already prepared, there are no new documents created. Both shipping manifests and bill of ladings are referred by stakeholders to make sure everything is in order.
It is helpful to view a shipping manifest as a supporting document for vessels, and bill of ladings as a supporting document for cargos.
Prior to a vessel berthing, the customs officer, and port officers will review the submitted shipping manifest, along with the other manifest (dangerous goods manifest, transhipment manifest, etc…) submissions. The manifests give the customs and port officers a summary of the cargo transported.
Prior to cargo release to the consigned party, the customs officer and partner governing agencies will review the bill of lading and other shipping documents such as import permits, commercial invoice and packing list.
More Information about Shipping Manifest
Shipping manifests are prepared by shipping agents only. There is a misunderstood conception that freight forwarders that issue house bill of lading also issues a shipping manifest. Though there may be different practices of manifest submission across different countries.
There is also a requirement that shipping manifest has to be submitted in advance, which we described in detail with the article below
Additional Information: What is an advanced manifest submission
More information about Bill of Lading
There are certain aspects that a bill of lading represents that a shipping manifest don't.
Apart from both bill of lading and shipping manifests are documents that customs officers review for release of cargo and vessels respectively, a bill of lading represents a contract of carriage between the logistic service provider and the cargo owner.
Hence, all details of the freight arrangement and conditions of carriage are stipulated in the bill of lading. For any liability claims against the shipping agent or vessel operators. The bill of lading is the de-facto document to refer to, and not the shipping manifest.
Secondly, a bill of lading can be arranged to represent a transfer of ownership from one party to another. In an international trade, the vessel operators serve as a gatekeeper that ensures that the final consignee is the actual intended owner or representative of the owner, receives the cargo. To facilitate that, a bill of lading is a necessary document of title to serve the process of transfer of ownership. A shipping manifest is not used for such purpose.
Lastly, the bill of lading also represents a receipt of goods. A proof that a transportation has been arranged by one party. Hence, it serves as a legal document for any potential liability insurance claims. Once again, shipping manifests do not serve that purpose.
Concluding Remarks
Shipping Manifest and Bill of Lading serve different purposes. Despite that, both documents display very similar information. As an international trade, you need to be concerned primarily of the details, and types of bill of lading only, and not concern yourself with the shipping manifest.