Introduction
Some logistics service provider presents themselves as an NVOCC, some as a Freight Forwarder, some defines their business as Multimodal Transportation Operator, and some refer themselves as VOCCs too. It is no wonder that even experienced international traders are confused as to which is which. In this article, we will define clearly what is an NVOCC and juxtapose it between other logistics service providers to give you a clear understanding of who you are dealing with.
An NVOCC acts as a principal transport operator that acts on behalf of the seller or buyer in arranging the supply chain details. An NVOCC stands out as Non-Vehicle Operated Common Carrier because they only act as principal and do not own any transportation assets.
Definition of NVOCC
The International Federation of Freight Forwarder Association (FIATA) defines NVOCC as "a company that issues bills of lading and assumes the role of the carrier of the cargo".
Similarly, the Federation of Maritime Commission (FMC) defines NVOCC as a form of Ocean Transportation Intermediaries (OTIs) that is regulated by the Shipping Act 1984.
NVOCC in the eye of FMC is defined as a common carrier, that issues a house bill of lading but does not operate vessels or other transport modes.
UNESCAP (United Nation Economic and Social Commission for Asia and the Pacific) also defines NVOCCs as such.
The International Chamber of Commerce (ICC) has informed us some of the NVOCC activities: –
Concluding contracts of international carriage of goods with the shippers as carriers;
Receiving cargo and delivering cargo as carriers;
Issuing bill of lading or other transport documents;
Collecting freight and other service charges
Booking space and arranging to ship with mainline carriers;
Paying port to port transportation freight or other transportation charges;
Consolidation and deconsolidation of containers either using own CFS or 3rd party
Information source: https://icc-ccs.org/icc_2527/index.php/nvocc-register/shipping-freight
Understanding NVOCC
After going through several definitions from various international bodies. We can draw a conclusion that is near-universal to all jurisdictions and definitions.
For a lack of a better word, NVOCCs "poses" as VOCCs (Vehicle Operated Common Carriers) by issuing transport documents on the back of the master transport document.
This implies that NVOCCs assume more responsibility as compared to service providers that act as "transportation agents".
When a logistics service provider issues a bill of lading, the international traders are effectively signing a contract of carriage with the service provider. In this case, any legal and insurance claims from the shipper or importer have to be directed to the party that drew that contract of carriage (NVOCC) instead of any other third-party outsourced service providers.
NVOCC vs Freight Forwarder
To compare the difference between a Freight Forwarder and an NVOCC, we can approach this with by questioning: –
What are the legal implications of engaging with a Freight Forwarder as to an NVOCC?
Is there any price difference between the service of a Freight Forwarder and that of an NVOCC?
Legal Implications
The contract of affreightment or contract of carriage is the legally binding document of service between parties.
Referring to the definition of an NVOCC, a freight forwarder can act as either: –
An authorized agent on behalf of the shipper or the consignee
The issuer of the contract of carriage (Bill of Lading)
We can ascertain the role of the freight forwarder in a logistic service by looking at the bill of lading issued.
Freight Forwarder acting as Authorized Agent
A freight forwarder acting as an authorized agent will issue the contract of carriage. Therefore, the international trader would expect a Master Bill of Lading (MBL).
Depending on the INCOTERM of the underlying shipment, the freight forwarder may appear in the MBL as a notify party only, and you would notice that the MBL is issued by a company that owns or charters the vessel.
The FMC has made it easy for international traders in the USA to determine if the service provider is a VOCC or not, they keep an updated list of VOCCs in the website below: –
Information Source: https://www2.fmc.gov/FMC1Users/scripts/ExtReports.asp?tariffClass=vocc
So, the tell-tale signs that your service provider is acting as a freight forwarder is that: –
Your Bill of Lading is a Master Bill of Lading issued by a VOCC listed in FMC
The freight forwarder is listed as a notify party only
There is no indication of "House Bill of Lading" on the contract
As we mentioned, this implies that any legal or insurance claims against the common carrier have to be presented to the VOCC instead of the freight forwarder.
However, not all legal and insurance claims can be brought to the common carrier listed above. There are many stages of logistics that require multiple party's involvements in a supply chain: –
Custom brokerage
Transportation
Container Stuffing/Unstuffing
Other modes of transportation
So, to present any claims to the VOCC common carrier, the international trader has to be certain that the monetary damage is done during the carrier's performance of that contract.
Additional Reading: Reasons not to Use a Freight Forwarder
Freight Forwarder acting as NVOCC
When a freight forwarder issues a House Bill of Lading instead of a Master Bill of Lading, they are effectively acting as an NVOCC. With that in mind, not all freight forwarder acts as an NVOCC.
What confuses the shipper and importer is that even when the freight forwarder issues a House Bill of Lading, some would still label themselves as a freight forwarder. But in actual fact, they are undergoing their logistics services as an NVOCC.
Similar to a VOCC, you can refer to the FMC website in order to determine if the company is registered as an NVOCC, therefore legally allowed to issue a House Bill of Lading: –
Information source: https://www2.fmc.gov/oti/NVOCC.aspx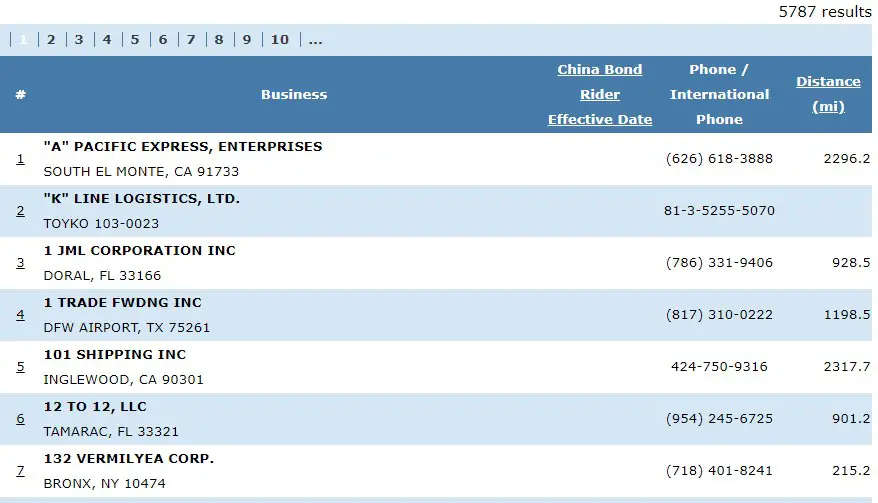 According to FMC database, there are 5787 registered NVOCCs operating in the USA.
For any shipper or importer, it is good practice to first check in the FMC database on whether the company is registered as an NVOCC. Because FMC has applied strict regulation on the issuance of bill of lading.
A company can only issue a house bill of lading if it has an OTI license by: –
Having at least one qualified personnel experienced in OTI operations
Financially sound to underwrite any logistics risks involved
Information Source: https://www.fmc.gov/resources-services/how-to-apply-for-an-oti-license/
If the house bill of lading is issued by a non-FMC registered company, chances are they are not financially strong enough to honor its contract, or they are not experienced in offering logistics services.
NVOCC vs MTO
UNESCAP has attempted to define the difference between an NVOCC and an MTO (Multiple Transport Operator), which is a tall order because every country and jurisdiction will have different interpretations of what an NVOCC or an MTO's function is.
From this ambiguity, the UNESCAP resorted to a series of lengthy discussions and offered guidelines to what an MTO generally is defined as.
UNESCAP defines a multimodal transport operator as: –
"…any person who is on his own behalf or through another person acting on his behalf concludes a multimodal transport contract who acts as a principal, not as an agent or on behalf of the consignor or of the carriers participating in the multimodal transport operations, and who assumes responsibility for the performance of the contract"
Information Source: https://www.unescap.org/sites/default/files/FF-standard-fulltext.pdf
This lengthy definition, put simply, means that an MTO operates similarly to an NVOCC with the exception that the contract of carriage issued covers multiple modes of transportation.
In certain circumstances, the contract of carriage does not expressly detail the mode of transportation used, it is up to the MTO to perform its contract, so long as that the logistics services provided meets the requirement of the consignor or consignee.
On the other hand, a VOCC can operate as an MTO too.
The VOCC may own certain modes of transportation, such as the vessels or the airplanes, but the VOCC offers its services to deliver to locations that can't be reached by its assets.
Price Difference between using NVOCC/MTO or Freight Forwarder
The logistics sector is very fragmented, each company will have its competitive strengths and weaknesses in every aspect of the logistics supply chain.
Having said that, we can adopt several inferences from what we observe.
Freight Forwarders
A freight forwarder's strength is that they have a buffet of VOCCs to choose from to suit the cargo's transportation requirement. The business's low barrier of entry also keeps the price competitive relative to other service providers.
However, a freight forwarder does not dictate the terms and conditions of transportation, and only acts as an agent.
Therefore, the shipper and consignee are exposed to the hassle of having to channel its damage claims to multiple third-party service providers such as VOCCs, Customs Broker, Inland transport operators.
NVOCC
There are some benefits of engaging with an NVOCC. Firstly, most developed countries regulations in place to protect their traders from malpractice. Engaging with a verified NVOCC implies that you are engaging with a company with a minimum required financial strength and experience.
Secondly, traders with enough bargaining power are able to negotiate for favorable contract terms and conditions.
For example, the trader can negotiate for longer free detention and demurrage period, or higher maximum liability claims.
Although NVOCCs also have a low barrier to entry, it is relatively higher compared to a freight forwarder, especially in the USA. Also, the issue of house bill of lading comes at a higher cost relative to having a standard master bill of lading.
So, it is possible that engaging with an NVOCC will be more expensive, but then again, in an industry so competitive, we could be wrong.  
Conclusion
Hopefully, we can roughly define what an NVOCC is, and how an NVOCC is different from a freight forwarder. But we shouldn't be too attached to the definitions of NVOCC or freight forwarder. What is important is that the service provider is well equipped to provide the service you need and that they are capable to handle liability claims if any unforeseen events ever happen.