You would usually encounter logistics cost in two ways; (1) A lumpsum fee covering a determined leg of transportation or (2) An itemized costing detailing all aspects of the logistics service. If a logistics cost is itemized, we may encounter the term Cartage Fee.
Cartage Fee is typically charged by local transporters for the service of hauling lesser truckload (LTL) cargos via road or rail. Cartage fees are typically charged for short-haul transportation. Also, other logistics stakeholders such as Port/Wharf, Customs, Warehouse Operators, Shipping Agents also charge cartage fees for short-haul transportation.
In our perspective, regardless of the term used for logistics transportation, whether it is termed "haulage", "drayage", or "cartage". Importers and exporters only need to know that these charges refer to the short-haul inland cargo transportation.  
Multiple Cartage Fees in Logistics
Do not be surprised either if you encounter multiple cartage fees in a single logistics shipment.
Apart from the importer, consignee, and the air/seaport, there are other logistics service providers involved during each stage of transportation.
Here is some example of circumstances where you may see multiple cartage fees: –
Port/Wharf Cartage Fee
Before a cargo is loaded onto/unloaded from a vessel, the FCL (Full Container Load) cargo or the LCL (Lesser Container Load) cargo will be staged at the port for further processing. These cargo processes may include: –
Cargo Inspection
Cargo Survey
Cargo/Container Storage
Cargo Manipulation (Repackaging, Repalletizing, etc…)
Typically, busy commercial port operates in large land areas.
Port of Singapore has an acreage of 1483 acres, 52 container berths, and 50,000 feet length port quay.
So, during the event where the cargo is required elsewhere in the port, due to reasons we have listed above (Cargo Inspection, Cargo Manipulation, Storage), the port or wharf will charge a small cartage fee for such a service.
Cartage Fee vs Wharfage Fee
Cartage fees are not to be confused with wharfage fees. Exporters and Importers that do not charter their own vessels will not typically encounter a wharfage fee.
Specifically, the port operators charge ocean or air carriers wharfage fees for using the port's wharf of quay to unload or load cargos. The ocean carrier will then recover those fees from importers and exporters by charging Terminal Handling Charges, Ocean Freight Charges, or any other handling charges.
Cartage fee, on the other hand, is charged by port operators for moving the cargo from one point in the terminal to another point. It could be from one terminal to another, from one Container Freight Station to another, or from the storage depot to the customs inspection area.
Cartage Fee vs Drayage Fee
The key distinction between cartage fee and drayage fee can be found from the root word from cartage and drayage.
In historical days, carts are small, open-wheeled vehicles that are either drawn or pulled by humans or animals. Whereas a dray is similar to a cart but used to carry heavier loads of cargo.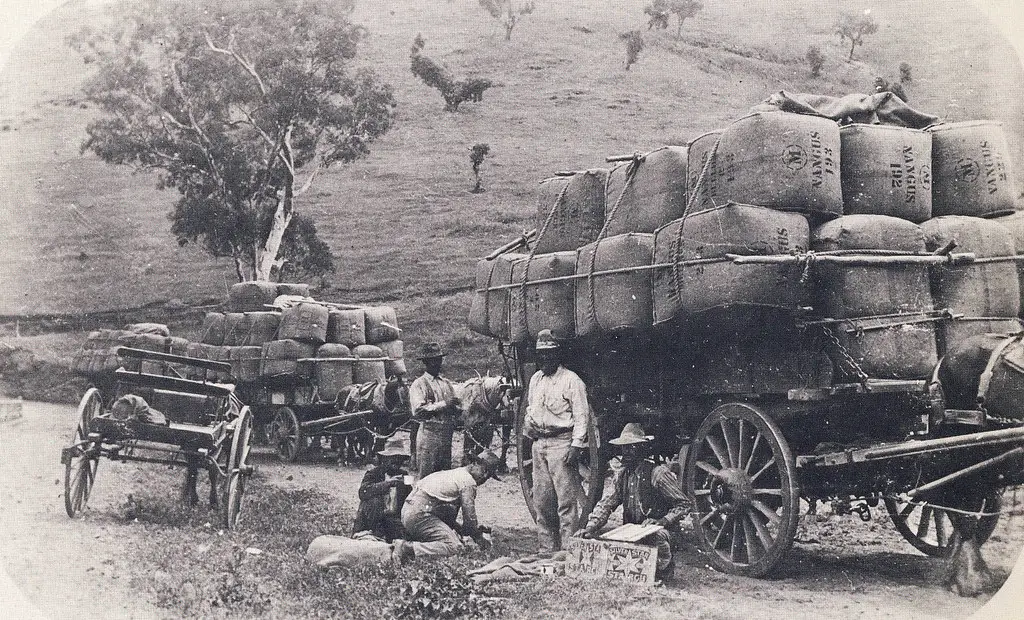 Hence in modern times, cartage refers to the transportation of lesser container load goods (LCL) whereas drayage refers to the transportation of Full container load (FCL) goods.
Both cartage and drayage pertain to the transportation of goods over a short distance by road
Additional Information about Cartage Fees
Can Cartage Fee Documentations be Considered as a Contract of Carriage?
A contract of carriage has three involved parties: –
Consignor
Consignee
Logistics Service Provider
Moreover, a contract of carriage also includes terms and conditions of carriage which all parties agreed upon.
A contract of carriage also acts as a receipt of goods to indicate that the service provider has performed its duties as a transporter and the consignee has received goods in an apparent good condition.
Hence, for inland cargo hauls. When providing "cartage" or transportation service, as long as the aspects above are included in the cartage advice. it is considered as a contract of carriage.
Additional Readings