The word "Dray" as a noun is a carriage that is pulled by a horse, which does not make any sense in supply chain logistics. The word "Drayage" when used as a verb as an act of transferring goods from one point to another.
But why is the term drayage used today as there are many other terms already used in the supply chain vocabulary? Such as transportation, multimodal logistics, door-to-door delivery, and so on…
What is more confusing is that the term drayage is used differently as well in different countries. Nevertheless, the underlying similarity is that when you encounter the term "drayage", you would associate a fee payable to the drayage service provider.
So, what is drayage?
To be more specific, there are many nodes in the logistics supply chain. These nodes are the connecting link that connects multiple modes of transportation, to provide a seamless end-to-end delivery for 1 specific cargo transport.
The term multimodal transportation highlights the requirement that the nodes linking each type of transportation mode have to be strong. A weak link will result in an inefficient supply chain.
A strong link between transportation modes is facilitated by efficient drayage. Drayage could then be interpreted as the short-term transportation that prepares the cargo for the next stage of transportation (via truck deliveries)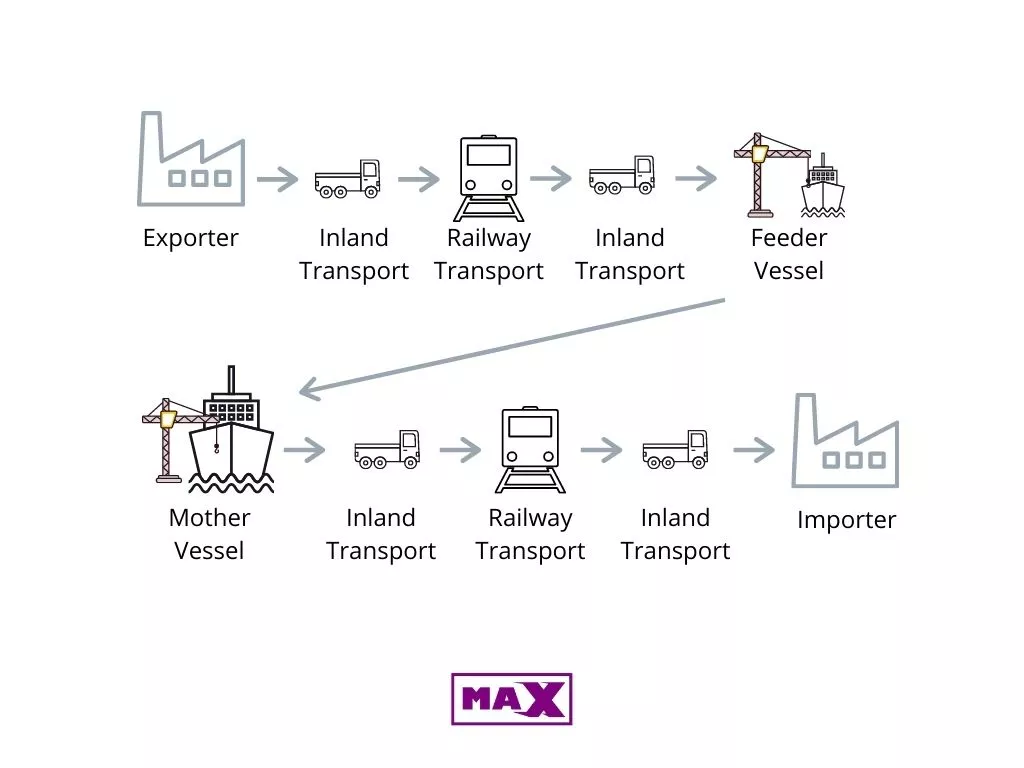 As an example, this is one form of transportation that requires multimodal transportation, where the road, rail, and sea transportations are used.
Drayage occurs in between the modes of transportation, where a specialized group of service providers stages the cargo or cargo container in preparation for the next leg of the transportation.
Drayage Fees
Now that you are aware of what is drayage and how it pertains to modern supply chain transportation, you would ask yourself why does drayage concerns an exporter or an importer.
The efficiency of these "connecting links" between the supply chain defines how efficient transportation is. The stronger the link, the more efficient the transportation is.
Consequentially, you would end up saving more from avoiding any erroneous fees incurred when your cargo is in between transport modes, or as we call it "transport limbo".
To extend the scope of drayage further, we will explain what are the different types of drayage fees.
Containerised Cargo and Drayage
Shipping containers manage to solve the century-old problem of transportation. Containers provide a useful benefit that facilitated the speed of intermodal transportation, that benefit is the benefit of homogeneity.
Container drayage occurs when a driver picks up or drops off a container from a load generator. The pick-up or drop off points are potentially a seaport, warehouse, or rail yard.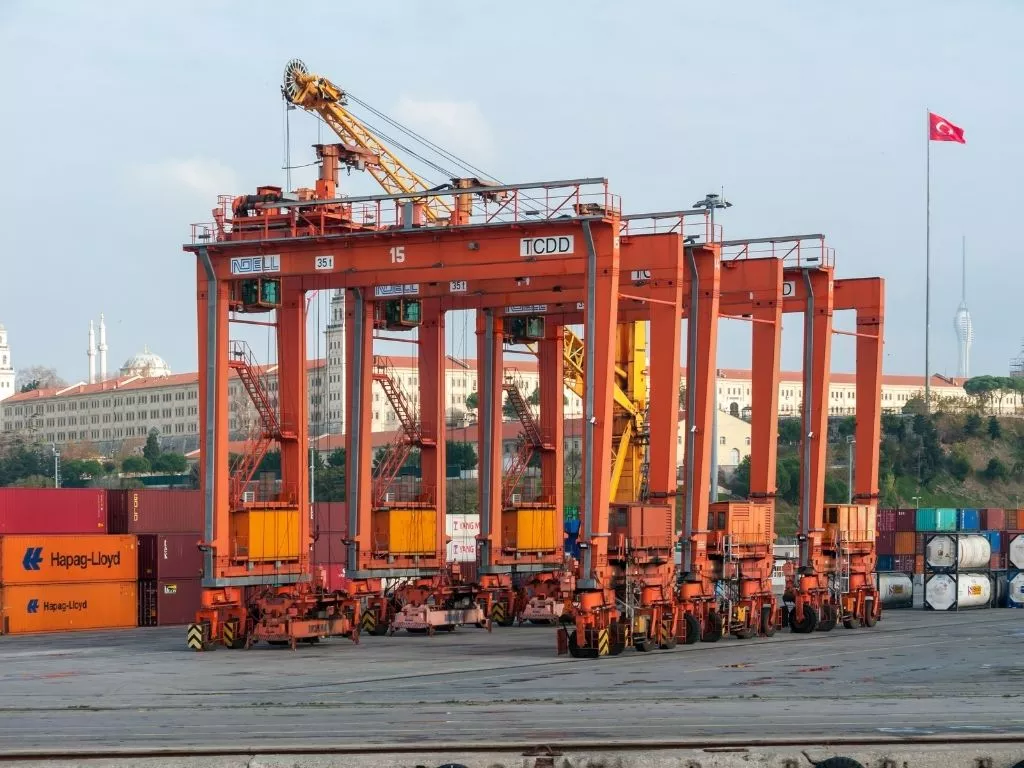 The cargo containers have to be staged near the container vessel; this is performed by gantry cranes as you see from the above image. However, movements made by gantry crane are generally not considered as drayage.
Drayage is mostly associated with truck delivery. We have to deliver the container truck deliveries into the port yard, so the gantry cranes can sort and stack shipping containers. The priority containers will be staged closer to the shipping vessel.
Alternatively. this is called Pier Drayage or Port Drayage.
Process Flow for Drayage Firms

Drayage firm receives manifest from shipping liners
Drayage firm creates a pick-up order and appoints a drayman.
The drayman or dispatch driver picks the load and deliver it to the terminal.
At the port of discharge, a drayage firm empties the unloaded container to a container depot appointed by shipping companies.
Drayage vs Cartage
Cartage is also used to refer to the process of transporting goods. It also refers to inland transportation only and generally used to describe short-distance transportation only.
Technically then, there is no difference when we are talking about either drayage or cartage. After all, the noun "dray" and "cart" generally describe the same thing as well; prehistoric two-wheelers that use horses as a propulsion system.
So, do not get bogged down by the difference between drayage and cartage. There is actually no difference.  
Inefficient Drayage
Drayage drivers are typically limited to 11 hours of driving time and 15 hours of on-duty time per day. Hence, it is in the interest of drayage firms to maximize the number of trips per day to maximize profit.
However, countless variables are not under the control of drayage drivers. As a small part of the supply chain, draymen are constantly operating in: –
Container yards
Railway yards
Distribution warehouse
Port Gates
If we were to assume that drayage drivers have every incentive to maximize trips per day to maximize profit, we can deduce that efficient drayage is dependent on the efficiency of the locations they operate in; as we have listed above.
Gate Queuing
Every port terminal has a terminal gate since there is only a finite terminal gate open at any given time. There is invariably a chance that drayage drives are queuing at the port gates, especially during peak delivery hours.
Gate queues are costly, inefficient, and most of all environmentally damaging.  
Marine Terminal Bottleneck
Gate queues are part of a marine terminal bottleneck. However, within a port terminal, several other factors can also increase the cost of drayage.
Ports with limited resources are the main culprits for a terminal bottleneck, due to various reasons such as: –
Insufficient vessel berths
Insufficient gantry crane
Insufficient laborers such as stevedores
Outdated IT infrastructure
Redundant gate processing procedures
Inefficient container depot operation
These are some of the reasons that can contribute to an inefficient drayage process, and the importers and exporters will suffer from these inefficiencies one way or another.
Substantial Drayage Fee costs
In most countries, drayage is performed by a third-party truck driver. The effect of inefficient drayage can ripple to additional transportations costs to either the exporter or the importer.
Different countries would have different cost tariffs implemented on container drayage. The more unassuming costs are: –
Detention and Demurrage
Shipping liners practices leasing the shipping containers to either the importer or exporter, the cost of leasing a COC (Carrier Owned Container) is typically reflected in the ocean freight rates.
Understandably, shipping liners are allocated a free period of time for which importers and exporters can load cargo into the container or unload cargo from the container.
If the importers and exporters are competent in their responsibilities of loading and unloading the cargo. The delays in drayage may be attributed to other factors outside of the importer/exporter's control.
Once the shipper or consignee exceeds the allotted free time, the shipping liners will charge a detention or demurrage fee to the shipper or consignee.
Detention charges are due to the container leaser for the use of containers outside of the container port.
Demurrage charges are due to the container leaser for the use of containers inside of the container port.  
Resources: